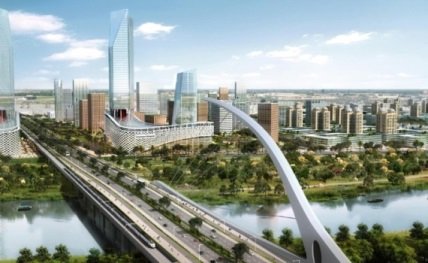 Vijayawada: Amaravati Metro Rail Corporation (AMRC) has decided to entrust metro rail project works, except metro depot at Nidamanuru, to two companies. Though the Delhi Metro Rail Corporation (DMRC) reportedly thought that it would be better to involve three major companies in metro works to facilitate speedy completion of the project, only two companies L&T and Afcons Infrastructure got eligibility in financial bidding that was conducted in Delhi on Monday.
According to a senior officer of AMRC, each corridor work will be entrusted to one company. Two corridors, one from Pandit Nehru Bus Station (PNBS) to Penamaluru and the other from PNBS to Nidamanuru are planned to be built.  "We think it will be easier if the metro works are divided as two parts and one each is entrusted to each company," he said.
AMRC managing director N P Ramakrishna Reddy told Media that the DMRC and AMRC are now in the process of evaluating price bids submitted by the L&T and the Afcons Infrastructure and it will take around 15 days to complete.
"It may take around two months for the project to take off as a lot of process, including making agreements with the two companies is involved," he said.
On the other hand, the AMRC is doing parallel exercise to secure foreign funding to the Metro Rail project in addition to the funding from Union and state governments. The state government has already given permission to the AMRC regarding to foreign funding. Germany's KFW group and AFO group of France have already expressed their willingness to fund Rs 3,600 crore for the metro rail project.
The AMRC is also planning to go for public issue to obtain funds and the process will be in phased manner. "It may take at least 5 to 6 years to complete the metro project. So, the process of gathering funds will depend on needs and pace of the project. We are very cautious on interest rates offered by the financial institutions", an official said.
Daily Updates from Metro & Railway