CHENNAI (Metro Rail News): The majority of the city's infrastructure projects are being hampered by the second Covid wave and a labour shortage, but the Chennai metro rail's phase-2 project is moving forward, with Chennai Metro Rail Limited (CMRL) issuing a tender to lay tracks connecting the city's core localities like T Nagar and Vadapalani with the IT hub in Porur and the Poonamallee bypass.
These areas are part of the 26.1km corridor that runs from Light House in the east to Poonamallee in the west, and pre-construction work on the 15.8km length is expected to begin in a month after two businesses were granted contracts.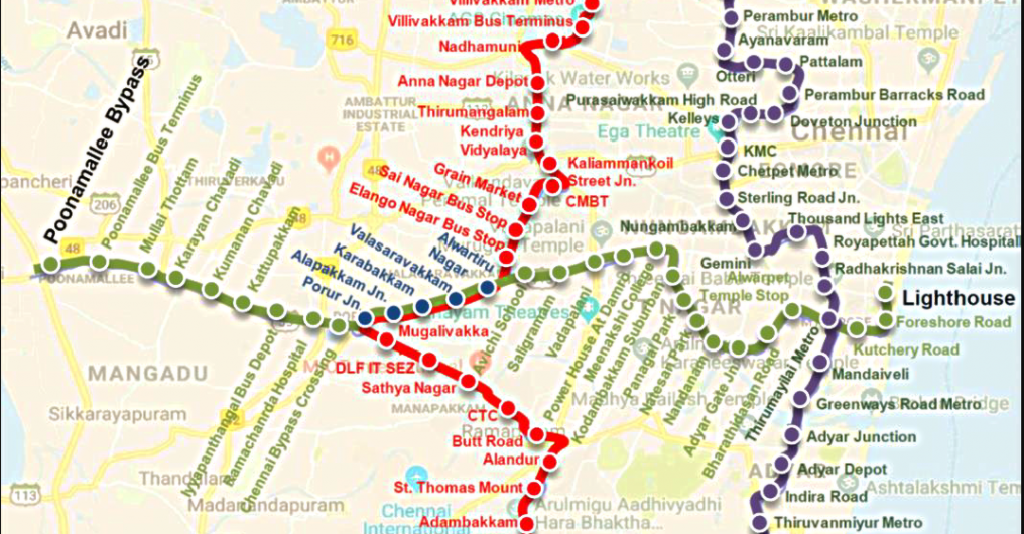 The Phase-2 network will consist of three routes totalling 118.9km and is expected to be completed by 2026. CMRL has begun seeking for a business that can supply, instal, test, and commission track on the subterranean and elevated parts of corridor-4 from Light House to Poonamallee bypass, as well as Poonamallee depot, after floating multiple tenders for the 118.9km phase. The 26.1-kilometer route consists of a 16-kilometer elevated corridor with 18 stations and a 10.1-kilometer subterranean portion with 12 stops. Officials previously stated that they may choose for ballasted tracks for the depot to save money and ballastless tracks for mainline train operations.
According to a Metrorail official, work on phase 2 has stalled owing to the Covid-induced statewide shutdown last year and this year's state assembly elections. "But, during the lockdown, we had been working on getting the papers ready. The work has also been slowed down as a result of the model code of conduct that was in effect during the assembly elections. "We don't want any further delays," an official stated.
Three businesses were recently granted four building contracts by CMRL. It contained two contracts for the building of a section of corridor-4. Contracts will begin pre-construction work, such as soil investigations and other studies, within a month, according to officials.
Corridor-4 connects many of the city's core neighbourhoods, including Marina Beach, Mylapore, Nandanam, T Nagar, Kodambakkam, Vadapalani, and Saligramam, are well-connected by public transportation, as are west Chennai neighbourhoods such as Chennai bypass crossing, Iyyappanthangal bus depot, Katuipakkam, Karayan Chavadi, and Poonamallee.
On corridor-4, Larsen & Toubro was awarded a contract to build a 7.9km elevated line with nine stations from Power House in Kodambakkam to Porur junction in 2.9 years, and Hindustan Construction-KEC International Consortium was awarded a contract to build a 7.9km elevated line with nine stations from Chennai bypass crossing to Poonamallee bypass in three years.
"The business must complete the contract signing procedures within 28 days and then begin work." As a result, we may expect some work to begin within 28 days, although mobilising workers and larger machinery may take some time," an official explained.
Daily Updates from Metro & Railway