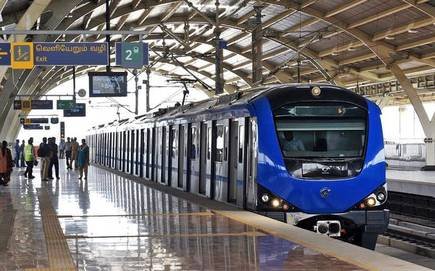 Chennai (Metro Rail News) The Pandemic has delayed many infrastructure projects, but the elevated metro rail maintenance depot, which could eventually hold a 20-storey apartment complex in the future, coming up in Wimco Nagar would be ready on time as per the inputs provided by official sources.
"The depot will be ready by December as per the initial deadline. The depot is under construction on a 48,000sqm area to accommodate 11 stabling units for daily maintenance and minor repair works for trains that will be operated on a 32km corridor", said one official.

Although the nationwide lockdown in view of COVID spread has already hit the economy as well as the infrastructure projects badly, the CMRL (Chennai Metro Rail Ltd) officials have been saying that the works are going on with full pace. While the extension line, which was expected to be ready by mid-2020, is likely to be delayed by six months, officials said there won't be any delay in getting the depot ready.
The lockdown has not caused any delays in the construction of the depot. Work is going on as per the schedule and we will meet the deadline," an official said. "We stopped work for a month and a half and started soon after the government gave instructions to start work with 50% workers in May. We have nearly 1,200 people working now at the north Chennai line and the depot and we are also trying to bring back other workers who left for their native town. We are expecting the extension line to be ready by December," an official said.

As construction is underway, CMRL floated a tender for design, manufacture, supply and installation of spares and consumables needed for the facilities being built at the depot, including the automatic train wash plant, car body stand, retractable overhead equipment (OHE) and self-propelled battery operated scissor lift. The depot will serve both the existing 23km corridor from Washermenpet to Airport and under construction 9km extension line Washermenpet to Wimco Nagar.
Daily Updates from Metro & Railway