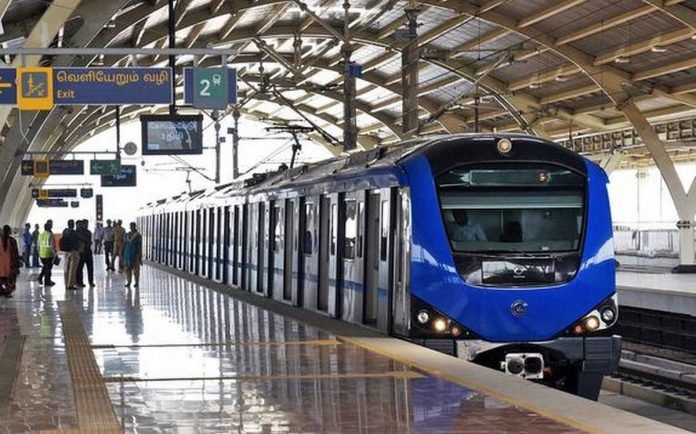 CHENNAI (Metro Rail News): Chennai metro rail's phase-2 lines will open in about 4 years and it is assumed that the station at Alandur will be the busiest as it will be linking IT corridors at OMR and Porur as well as remote suburban localities with transport hubs like airport, Egmore and Central stations.
To make this possible a foot over-bridge is present which will help commuters switch between phase-1 and phase-2 stations at Alandur and take trains to their destination. During their journey, passengers can enjoy a panoramic view of the city as metro lines linking the station will built above Kathipara and phase-1 corridor at the height of a nine-storey building (nearly 33m). The deadline for the 118. 9km phase-2 is 2025.
Alandur metro station will be part of corridor 5 in phase-2 which is Madhavaram Milk Colony to Sholinganallur passing through poorly connected southern suburban localities like Madipakkam, Puzhuthivakkam and Medavakkam.
It already links the two corridors of phase-1, where commuters either physically switch between corridors or take a direct train that switches between them through a loop line at Alandur metro. The phase-2 metro will be built right behind the existing station.
A foot overbridge will link the ticketing level of phase-2 station with the lower track level of phase-1 station for commuters. "The station will be connected to corridor-5, phase-1 corridors as well as the urban square at Kathipara where buses will stop," a CMRL official said.
Currently the commuters heading to the airport from IT corridors in Porur switch at Alandur from phase-2. For residents from Adambakkam, Madipakkam, Puzhuthivakkam and Medavakkam areas which are poorly connected until now, Alandur will be main station where they can switch between phase-2 and 1 stations.
Alandur will also be the station where commuters from places like Madhavaram and Poonamallee may have to shift between corridors to reach Central and Egmore stations and the airport. Commuters arriving in the city through outstation or local buses can disembark at Asarkhana or at the urban square under board trains at Alandur.
The alignment of the elevated corridor will pass over the two existing corridors and over Kathipara cloverleaf grade separator. From Alandur metro, the alignment passes through Inner Ring Road via St Thomas Mount where a aerial line is planned for metro services with MRTS.
Former director of CMRL, Mr R Ramanathan said that during phase-1 construction, a bus terminus with several bus bays was planned behind phase-1 Alandur station for commuters to switch between different modes. "The government could plan a bus stop instead. But the decision has to be made before construction for phase-2 begins. "
Sivasubramaniam Jayaraman of the Institute for Transportation and Development Policy said "Alandur should be built like Central station where buses come inside the station". Building facilities for all types of feeder services within the station alone can make Alandur a real multi-modal hub.
Daily Updates from Metro & Railway