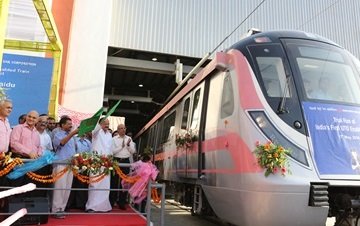 New Delhi: The Delhi Metro Rail Corporation on Tuesday said the 3.9-km Kalindi Kunj-Botanical Garden Metro link is expected to open by April 2017. The trial on this route will continue for next six months.
The Kalindi Kunj-Botanical Garden stretch will give Noida a direct line to the Delhi airport, Gurgaon and many south Delhi areas by April next year.
The Noida authority and the Delhi Metro Rail Corporation (DMRC) had June 20, 2014, signed a memorandum of understanding for the 3.9-km elevated line, to be built at a cost of R874 crore. An estimated 48,500 commuters are expected to use this section.
"We have not finalised the date when this short but vital Metro corridor will be opened for the public. We are going to implement a communication-based train control (CBTC) for the first time in India on this route. In future, driverless trains will run on this corridor if all goes as per plan," said Anuj Dyal executive director, DMRC.
As of now, DMRC is conducting rigorous tests for signal and other technical issues. On Tuesday, DMRC started regular trial on this 3.9-km link.
The DMRC started started trial runs on the 9.5-km Okhla Vihar-Kalkaji Temple stretch, part of the 37-km Janakpuri West- Noida's Botanic Garden Metro link, in October.
The 3.5-km Kalindi Kunj-Botanic Garden corridor is part of the same project.
"Since we are using the CBTC for the first time, it will take not less than six months for trials to get over. We are running trains on this link at night. Once trials are over, we will do safety tests," said Dyal.
The Kalindi Kunj-Botanical Garden line will have two stations in Delhi — Kalindi Kunj and Okhla bird sanctuary. On the Noida side, Botanic Garden station will serve as the NCR's first interchange station, linking commuters to the Blue Line (Noida City Centre to Dwarka Sector 21) and the Janakpuri West-Botanical Garden corridor.
This station, which sees 14,000 commuters daily, is projected to get an interchange load of 97,780 passengers in 2016.
Source//HT.
Daily Updates from Metro & Railway