New Delhi: The domestic Terminal 1 of Indira Gandhi International (IGI) Airport is all set to get direct connectivity through Delhi Metro. All thanks to DMRC's upcoming Magenta Line. This will be a reality in next 6 months as Magenta Line will connect IGI budget flyers directly with the national capital, according to a report in the Media. Basically, the domestic departure Terminal 1D and arrival Terminal 1C of the IGI airport cater to budget flyers. Notably, the domestic departure Terminal 1D and arrival Terminal 1C witness a footfall of approximately 1.75 lakh per day. The Terminal 1 IGI Metro station is part of the Magenta Line. This Janakpuri West-Botanical Garden line is expected to be opened to passengers by March 2018. According to the details cited in the report, the underground Metro station would be connected to the terminals through a subway.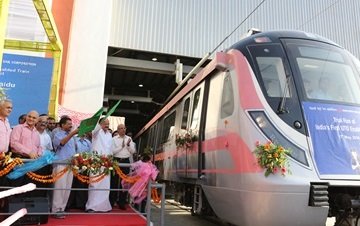 Here are some key things in terms of data to know about this transport facility:-
66,000: Projected daily footfall at Terminal 1 Metro Station at IGI Airport
1.75 lakh: Daily footfall at Terminal 1
38.22 km: Length of Janakpuri West metro station-Botanical Garden metro station on upcoming Magenta Line
Moreover, the station on the Magenta Line will connect the domestic terminals of the IGI Airport not only to west Delhi but also many areas of south Delhi and Noida.
The Delhi Metro's Phase III, an ambitious public transport intervention, will be almost fully operational by March 2018, bringing vast areas of the national capital into the fold of its fast expanding network.
The 34-km-long Magenta Line will be thrown open in stages between October and March 2018. It will connect west Delhi to Noida via IGI Airport's domestic terminal.
Trial runs along certain stretches of Magenta Line had begun last year itself.
Daily Updates from Metro & Railway