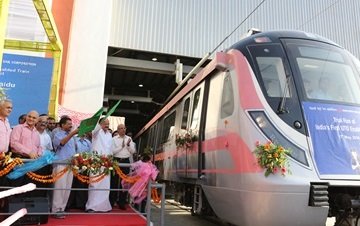 New Delhi: The trial run of Delhi Metro's new 'driverless' trains began today, setting the ball rolling on what promises to be a technological feat in the country's public transport system in little more than a year, when they will run on 'unattended' mode.
Delhi Chief Minister Arvind Kejriwal and Union Urban Development Minister Venkaiah Naidu flagged off one train equipped to travel on 'Unattended Train Operations' mode at the Mukundpur depot of metro's upcoming Majlis Park – Shiv Vihar corridor.
In their speeches, Mr Naidu and Mr Kejriwal insisted that metro was one of the best answers to the city's commutation and pollution woes. Mr Kejriwal thanked the Centre and termed Delhi Metro Rail Corporation (DMRC) as a 'unique example' of cooperative federalism.
Mr Naidu said that odd-even was a temporary measure and "cannot be a permanent solution" and said new technology was set to increase metro's frequency to 90 seconds.
"As we kept on saying during odd-even, till the time we don't improve our public transport system, one that which inspires car owners to move opt for public transport, pollution or congestion will not come down," Mr Kejriwal said.
Trial run of trains, that were unveiled last month, will take place between the depot and Majlis Park station, one of the terminal stations of the upcoming Pink Line, for the next few days. Gradually the distance covered by them will be increased, a metro official said.
The new trains will undergo rigorous trials to ensure that they are ready for smooth operations after the commissioning of the 58-km-long Mukundpur- Shiv Vihar and the 34-km-long Janakpuri (West)- Botanical Garden corridors , by the end of this year, although initially, train operators will run them.
"Gradually, driver-less operations, on the Unattended Train Operation (UTO) mode, will be possible and later on, in stages, the new signalling technology – Communication Based Train Control (CBTC) – will be implemented which will bring the time gap between to two trains to 90 seconds instead of the current average of two minutes," an official said.
To read our news story offline – Download Metro Rail News App
Daily Updates from Metro & Railway