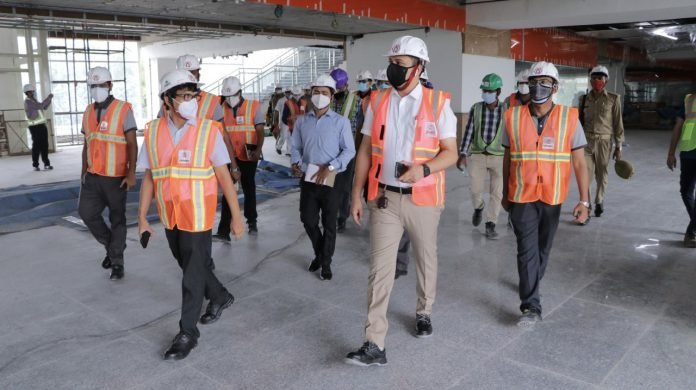 KANPUR (Metro Rail News): Kanpur Divisional Commissioner Shri Raj Shekhar inspected the construction works of the Kanpur Metro Project along with the higher authorities of Uttar Pradesh Metro Rail Corporation Ltd. (UPMRC) and he has not only expressed satisfaction over the progress but also the quality of work.
The unexpected and extraordinary happening about the visit was that the Commissioner along with the Metro officials travelled 5 km by walking on the Metro Viaduct from IIT to Gurudev. Commissioner also visited IIT-K Metro Station and inspected the finishing work of the station. Here he was informed that the technical rooms of all the 7 Metro Stations from IIT-K to Rawatpur are equipped and the system installation work is going to be started very soon.
Throughout the visit Commissioner, Shri Raj Shekhar was also informed by the Metro officials that 80% of civil construction and 40% finishing work of 9 km long Priority Corridor, which is being built between IIT-K and Motijheel, has been almost completed to date.
Near IIT-K Metro Station, while inspecting the track, Shri Raj Shekhar paid special attention to the work of crossover which is being prepared to change the track of Metro Trains. At the same time, Metro Engineers also explained to him about the technology and the progression of the Rail Welding Plant mounted on the viaduct itself. He further informed by the officials that a segment or part of a Metro Rail is about 18 meters long and with the help of the Track Welding Plant, many kilometers long Rails are prepared by connecting them.
Daily Updates from Metro & Railway