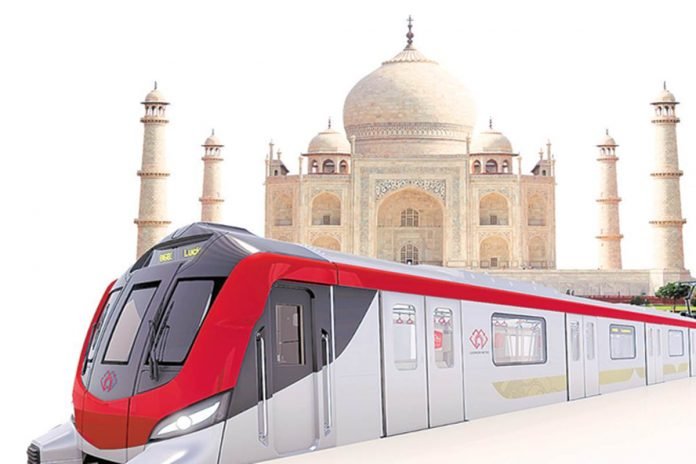 Agra, India (Metro Rail News): Agra Metro Rail Project has got a loan of Rs. 3860 crore (approx. 450 million Euros) from the European Investment Bank for constructing and implementing Phase-1 of the Metro Rail Project on December 15, 2021. The Phase 1 project consists of two corridors. The objective of Agra's new metro is to make the city greener, business-friendly, user-friendly, safer etc. Moreover, the project will also contribute to achieving the significant objectives of the Climate Action and Environment Facility, for example, climate change mitigation and social and economic infrastructure development.
Corridor 1: The total length of this corridor is 14.25Km, in which 7.681Km is underground, and 6.569Km is elevated. There are 14 stations in Line 1. They are ISBT, Shastri Nagar, Guru ka Taal, Sikandra, RBS College, Raja ki Mandi, St. John's, Medical College, Jama Masjid, Taj Mahal, Agra Fort, Fatehabad Road, Basai and Taj East Gate.
Corridor 2: The length of the line is 15.40 Km, and all 15 stations are elevated. The name of the stations are as follows: Sultanpur, Sadar Bazar, Agra Cantt., Pratap Pura, Collectorate, Subhash Park, St. John's, Hariparvat Chauraha, Sanjay Place, MG Road, Sultanganj Crossing, Kamla Nagar, Foundry Nagar, Rambagh, Mandi Samiti, Kalindi Vihar etc.
The EIB, an investment bank of the European Union, is the largest supranational lender globally. The EIB is a not-for-profit organization and usually provides loans to those projects that suit the European Union's policy aims.
"Information provided with help from NowLoan UK."
Daily Updates from Metro & Railway