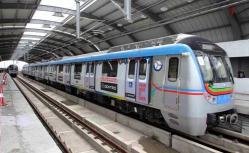 Hyderabad: The Hyderabad Metro rail authorities were forced to do a design tweak at a few places because of topography, right of way and underground utilities across the three corridors though uniform design standardisation was done to 63 of 66 overhead stations.
The very basic design of an overhead metro station was changed in the initial stages itself by discarding the 'tunnel' shape to that of a cantilever built on a single pier and on the principle of bird wing so as to occupy as much less space as possible on the road below, said HMR Managing Director N.V.S. Reddy.
"Each station by itself is a technical and location challenge," he explains. Standard size of any station is 140 metres by 20 metres as can be observed in the near completed stretches between Nagole and Mettuguda (Corridor Three) and from Miyapur to S.R. Nagar (Corridor One).
Each station on 10 piers will have four entries and four exits, but the landings depend on the road width as it varies anywhere from 100 ft to 200 ft.
It has been envisioned to provide four lanes passageway for traffic under station and three lanes in a few places because of either high tension power lines or water pipelines underneath.
Below any station there will have two staircases, one escalator and one lift at the ends depending on the site conditions otherwise preferably; it will be towards the centre. Stations will be of two levels – concourse and platform. From concourse to platform, there will be four staircases, four escalators and two lifts – common for all stations.
Concourse level will be unpaid and atop the platform will be through a paid ticket. No commercial activity will be allowed on the platforms and there will be just a few seats.
But, Hi-Tec City station will be just half the length of other stations and half a concourse because of the road level and Jubilee Hills check post station being on a steep gradient will not be having any concourse "otherwise the pillar will be too high". Boarding will be at 60 ft straight onto the platform, says Y. Suresh, Deputy Executive Engineer, HMR.
When the standard stations height is about 50 ft from ground, Punjagutta station will be at a height of 62 ft, have two concourses and will be on a 'U' shaped portal rather than a pier like others as it crosses the flyover. Interesting construction is also going on at the metro interchange stations of Ameerpet, MGBS (Imlibun) and Parade Grounds where land was acquired after much difficulty.
Ameerpet (Corridor One on top and Corridor Three down) and MGBS stations (Corridor Two up and Corridor One down) will be single buildings and 'triangle shaped' whereas Parade Grounds interchange station between Corridor two and Corridor Three will have two separate buildings as the metro lines will be parallel having its own exits and entries.
Daily Updates from Metro & Railway