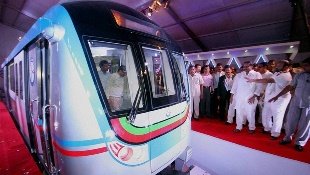 Hyderabad: Municipal administration and urban development minister K Taraka Rama Rao on Thursday said the state government is aiming at commissioning the Hyderabad metro rail service in June this year. Prime Minister Narendra Modi is likely to be present when the first rapid mass transport system is thrown open for Hyderabadis, he said.
"We are planning to launch the metro service on Telangana formation day, which is June 2. We are working out the dates with Prime Minister Narendra Modi and chief minister K Chandrasekhar Rao. While it is almost confirmed that the train would be launched in June, we will announce the dates shortly," the minister said at a press conference convened to announce the 100-day action plan for the development of the city.
When he took a ride on the Metro in December last year, KTR had announced that the service would be commissioned in the first half of 2016. At present, an 8-km stretch between Nagole and Mettuguda and another 12-km stretch between Miyapur and SR Nagar are ready.
Meanwhile, as part of the 100-day plan, the government would leverage technology to achieve development, KTR said. "The chief minister has given us a mandate that we must put in place such an efficient system that it should automatically get rid of corruption when issuing clearances. We will adopt technology to achieve this," he said in his first press meet after taking over the MA&UD portfolio.
Last week, during a review meeting of the MA&UD ministry, KTR had announced that the government would come up with a three-phase plan for city development – 100-day plan, three-year plan and five-year plan. "We are hereby keeping our promise to announce the first phase. We will come again after 100 days with a progress report," he said.
The highlight of the 100-day plan is the online system to issue building approvals. An applicant will get a reply from the authorities within 30 days after seeking permission, he said. An integrated citizen services mobile app would be set up to enable people to apply for any service and view the status of their requests. They can pay bills, property tax, trade license fee etc. using this app.
He said over 14,500 application seeking layout regularization (LRS) and building regularization were being processed and they would be disposed shortly.
However, the TRS party's main poll assurances of building 1 lakh two-bedroom houses, a dedicated power island for the city and three hospitals were glaringly absent from the action plan.
"Those things come in subsequently. The state government would allocate funds for the two-bedroom house scheme in the budget next month," he said.
Functionalization of ward committees in all 150 divisions of GHMC, roads works with a spending of Rs. 200 crore, distillation of nalas, comprehensive development of 10 more grave yards, building 50 bus bays, installation of 100 public toilets, construction of 40 model markets are among other plans listed in the agenda.
Daily Updates from Metro & Railway