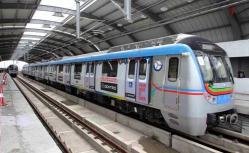 Hyderabad: The Special Task Force (STF) meeting on Hyderabad Metro Rail project held on Tuesday discussed ways to expedite the project clearing hurdles in its path of implementation.
The meeting, chaired by Chief Secretary Rajiv Sharma has trained its attention on properties held up in court litigations and delaying the implementation of the metro project.
While reviewing the status of metro pillars and viaduct works, the Chief Secretary wanted L&T Hyderabad Metro Rail officials to adhere to the targeted dates of completion without allowing any time lags.
The elevated metro rail project, spanning three corridors and a stretch of 72-km, is now under construction. However, its progress is held up in a couple of segments as the State Government wants its alignment changed.
A detailed report has been submitted by the concessionaire L&T and the final nod from the State is awaited. The right of way issues are still being resolved.
Daily Updates from Metro & Railway