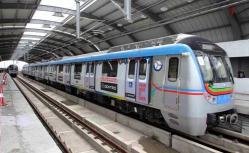 Hyderabad: With the Nagole to Mettuguda stretch of the Metro fully ready a delegation of senior L&T officers met Chief Secretary Rajiv Sharma recently and apprised him of the rising costs and the need to start operations on the stretch.
The senior L&T officers explained that as the stretch is ready the government has to look into the Metro Rail Act and come out clearly about the status of the 'operator'. Due to the new Metro Rail Act enacted by the Centre the clause of 'operator' has become a bone of contention.
A senior officer said, "We need to start services on the stretch that has been completed as we have the technical expertise and as tests have been completed. We now need to ensure that people gets accustomed to this new mode of travel."
After the visit of Hyderabad Metro Rail officials to Chennai, it is being again and again explained to the state government that metro can be started on small stretches which will give an idea to the people and also the operator. The metro rail at New Delhi, Chennai, Mumbai and Bengaluru started operations in phases.
At present the work at Secunderabad station is going on but within three months officials are confident that it will be completed and thus the route length can be increased further. But the main hitch is the Railway Safety Clearance Certificate which will have to be obtained and for that the government has to apply.
A senior government officer said, "We have got details from L&T and are putting up files to Chief Minister K. Chandrashekar Rao. It will be looked into."
But when and by what timeframe is what the L&T officers are pressing the government. A senior Hyderabad Metro Rail officer said, "Once we get clearance, parking facilities will be provided at Uppal and along the route. Now there is a deadlock and that is not allowing movement at the ground level on the project."
Daily Updates from Metro & Railway