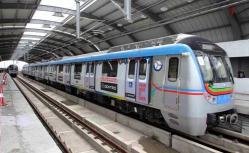 Hyderabad: The delay in commissioning a metro stretch has resulted in a huge amount of public money going down the drain as its safety certification is set to lapse next month. While at least Rs 10 crore was spent on the mandatory tests conducted in January, the procedure has to be re-started all over again unless the Hyderabad Metro Rail project is thrown open to the public before this month-end, which is unlikely.
Since the launch of the 8 km-stretch between Nagole and Mettuguda was slated for March 21 as per the internal deadline of the project, the mandatory tests were conducted before the train service was declared fit for operation. Performing the tests, Research Design & Standards Organization (RDSO), which works under the ministry of railways, issued the safety certificate with the speed limit of 80 kmph in January.
Based on the RDSO report, the commissioner of metro railway safety (CMRS), which belongs to the ministry of civil aviation, was to issue the final clearance for train service. However, with the state government postponing the launch, the regulatory procedure did not go further than the RDSO test, and the CMRS certification was not sought.
The rule mandates that the metro train service be operational within nine months of receiving the RDSO certificate, failing which a fresh clearance needs to be obtained.
"The tenure of the certificate will end in September and the project needs a fresh clearance thereafter. But, the lapse results in the loss of money, time and resources," a Hyderabad Metro Rail Limited (HMRL) official said. He said that while the government spent Rs 2.5 crore on the RDSO tests, the project concessionaire Larsen & Toubro footed the rest of the expenditure incurred during the mandatory procedures.
As per the norms, the train needs to run at least 2,000 km as part of trial runs before the RDSO tests. Official records show that in all, the metro rail ran a total distance of 5,000 km, including 1,200 km during the tests. The bulk of the expenditure during the tests was to meet power charges for running the train after the trial run began in October 2014. Staff salary and maintenance costs are among the other overheads.
The HMRL official said the trains were still running across the stretch since the exercise was necessary to keep the systems up and running.
Daily Updates from Metro & Railway