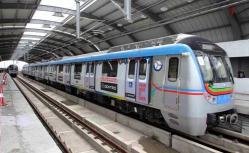 Hyderabad: The Hyderabad Metro Rail Limited could take another year to start operating from Nagole, pending completion of work between Mettugudda and Secunderabad.
HMR Managing Director N.V.S. Reddy on Saturday told reporters at the Uppal Metro Station that work around three road under bridges (RUB) in Secunderabad is time-consuming.
When asked when operations would begin, Mr. Reddy said only the government can take a call, but operations could begin within the next year.
He was speaking during a plantation drive at the station as part of the State government's 'Haritha Haram' programme.
Senior officials said that the seven stations between Nagole and Mettugudda are ready for use but operations cannot begin until the Commissioner of Metro Safety certifies HMR.
"This process would see the commissioner review operations and safety, which could take anywhere between four and five months," an official said. HMR has been running trials between Nagole and Mettugudda for more than a year now.
Mr. Reddy also informed that work on the 11 km stretch between Miyapur and S.R. Nagar is expected to be completed by the end of this year. This indicates trials could commence on this stretch early next year.
He also outlined brief plans to develop facilities for commuters in the vicinity of Uppal Metro Station, keeping in view the future potential of the area to become a hub for commuters.
"To connect people in the vicinity of metro stations, we are in discussion with two organisations to run feeder buses to and from the station," Mr. Reddy said.
Speaking about HMR's efforts to add to city's tree count, he said in three years – three lakh trees have been planted – and this year, there are plans to plant a total of six lakh plants.
Daily Updates from Metro & Railway