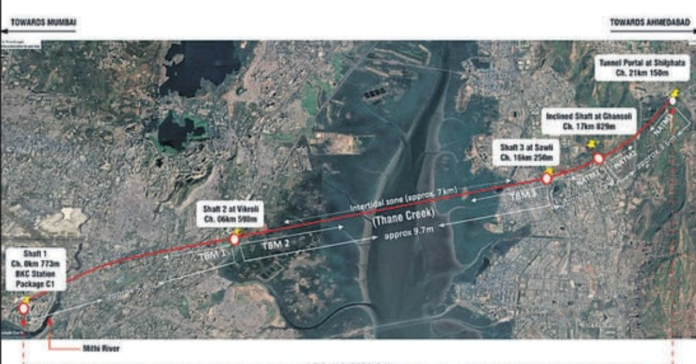 MUMBAI (Metro Rail News): The work for India's first undersea tunnel work handed over to Afcons Infrastructure Limited, which is 21 km long for the underground package C-2 of the Mumbai- Ahmedabad bullet train project located between the underground station in Bandra Kurla Complex (BKC) and Shilphata near Kalyan.
On 9 April 2023, the financial bidding for the work was opened by the National High-Speed Rail Corporation (NHSRC) in which  Afcons Infrastructure Limited quoted by the lowest bid
The single-tube undersea tunnel that is 7 kilometres long will accommodate the twin tracks at Thane Creek (inter-tidal zone). It will also hold 39 equipment rooms at 37 locations which connect the tunnel location.
The Tunnel Boring Machines (TBMs) with a cutter head of diameter 13.1-m will be used to build this tunnel, which doubles the size of those used for the Metro. About 16 km of the tunnel portion will make by three TBMs, and the remaining 5-m stretch will be done by the New Austrian tunnelling method (NATM).
The tunnel will be about 25 to 65 metres deep from ground level, and its deepest construction point will be 114 metres below the Parsik Hill near Shilphata. Three shafts will enable the construction at BKC, Vikhroli and Sawli near Ghansoli with estimated depths of 36, 56 and 39 metres, respectively.
A 42-metre inclined shaft will facilitate the tunnelling through NATM at Ghansoli and the tunnel portal at Shilphata.
The corridor has BKC High-Speed Rail (HSR) station as the only underground station. At a depth of 24 metres from ground level, the platform is planned. Three floors have been set up on the platform: concourse and service floors along with two entry/exit points, one to facilitate access to the nearby Metro station on the 2B line and the other towards the MTNL.
Daily Updates from Metro & Railway