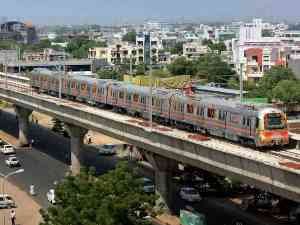 Jaipur: The Jaipur Metro Rail Corporation (JMRC) has cleared the final hurdle as its second tunnel has also crossed the state monument Isar Lat in the Walled City without causing any damage.
The entire operation of constructing two underground tunnels between Chandpole to Badi Chaupar (2.789 km), underJaipur Metro rail (phase-1 B) project, was meticulously monitored online simultaneously by the technicians in Jaipur, Delhi and experts at Athens, Greece.
During the digging, JMRC meticulously monitored the fragile state monument Isar Lat as well as the surroundings. For this, prisms were installed on the monument to keep a check on the settlement, with experts monitoring the reading after every half an hour. Other than this, crack meters and vibration meters were also fixed on the meter.
"It was a big challenge for our team as digging was done approximately 60 metres away from the state monument Isar Lat. However, we had experience of working in similar conditions as the first tunnel was dug. Also, this time the vibrations were far less than the permissible limit," a senior JMRC official said.
He added that before the digging started, the Ombicron Greece developed a three-dimensional (3D) model of the monument. Through software they tried to simulate the situation and studied what would be the effect on the monument during excavation by a tunnel boring machine (TBM). The 3D model helped JMRC to avoid damage and settlement to a state monument.
After the design was prepared by the experts from Greece, it was proof checked by the geo consultant in Paris and finally by the IIT, Delhi. At the time TBM was physically operational near the monument, the design pressure, rotation speed, thrust of the jack, grouting pressure were closely monitored online in Greece, Athens, Paris, Delhi and Jaipur. In the Walled City area, the tunnel is constructed near four archaeological monuments- Chandpole Gate, Isar Lat, Jantar Mantar and Hawa Mahal. As the second tunnel has crossed Isar Lat, JMRC officials can heave a sigh of relief as there are no major hurdles ahead.
Daily Updates from Metro & Railway