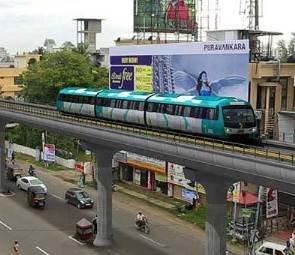 Kochi: The Kochi Metro Rail
Limited
(KMRL) said on Sunday that it would
implement
a
pilot project
for non-motorised transport (NMT) in the Kalamassery area of the city, which is host to a large number of educational 
institutions
, including the Cochin University of Science and
Technology
(CUSAT), and has a large
population
of students.
A
press release
from KMRL said that it had held consultations with representatives of the educational institutions near the CUSAT and Kalamassery metro stations to explore the potential of providing NMT facilities like cycling and walking.
"Apart from commissioning and running the Kochi Metro
Rail system
, one of the priorities of Kochi Metro Rail Limited is to enable easy and safe access to
the metro
stations through non-motorized transport (NMT). KMRL has appointed UMTC (Urban Mass Transit Company) as consultant to prepare a NMT Master plan for Kochi, comprising the identification of priority NMT corridors in a 2-km buffer area on either side of the metro corridor," said.
CUSAT and Kalamassery have been chosen as a pilot project, as there is a large population of students visiting the educational institutions daily (around 19,000) and it is hence a great opportunity to inculcate the habits of walking, cycling and using public transport right from the school days, it said.
"However, many challenges first have to be faced: lack of dedicated parking space, leading to increasing encroachment on the road space, absence of public spaces, lack of accessibility of existing footpaths (either broken, narrow or too high), absence of bicycle racks, poor street lighting and low frequency of buses. KMRL, with the help of Kalamassery municipal Corporation is planning to implement the pilot project of NMT in this area," it said.
Another round of consultations is planned to be held with more stakeholders to take it further.
"The objective of this initiative is to provide  safe, accessible and comfortable footpaths, improved conditions for cycling, bicycle parking facilities and urban
renewal
," the release added.
Daily Updates from Metro & Railway