Kolkata: The Metro rail network in the city will be increased by another 14 km in the next 18 months, an official said.
General Manager of Metro Railway, Kolkata M C Chauhan, said they have planned to augment the network by 14 km within the next one-and-a-half years and the probable sections will be Kavi Subhash (New Garia) station to Hemendra Mukherjee (Ruby Hospital) station stretch over a track of 5.3 km. The new routes will also include Noapara to Dakshineswar (4 km) and Noapara to Jessore Road (5 km).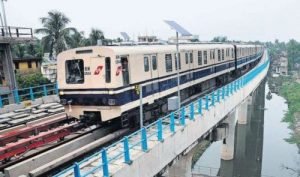 "In Baranagar municipality area there are around 400 encroachments, out of which 41 have been shifted. The municipality has promised to vacate the land by September 30," Chauhan said.
Similarly, in Kamarhati municipality area there are around 200 settlements which need to shifted for the work to begin, he said. Besides this, the first phase of the East West Metro Corridor project from Sector five in Salt Lake to Sealdah (9.4 km) is planned to be commissioned by June 2018.
By April 2017, two rakes will be received from the Integral Coach Factory, the Metro official said adding they are trying to finalise the order for another 10 rakes. The Metro Railway has also been trying to conserve energy and therefore, have installed 500 KWP solar plants on the roof of Kavi Subhash and Tollygunj stations, which have been declared green stations.
To counter heavy rush of passengers during the Durga Puja festival next week, Chauhan said they will increase the services by around 11 per cent compared to last year.
Altogether, there will be 1,624 services during the festival days.
Daily Updates from Metro & Railway