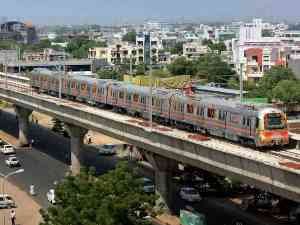 Lucknow: The Lucknow Metro Rail Corporation awarded the contract for Supply, Testing & Commissioning of 80 cars for 20 trains of four car each along with  Train Control & Signalling System for Lucknow Metro Phase-1A Project to French company, a Consortium of ALSTOM Transport India Ltd, Bangalore & ALSTOM Transport SA, France at a cost of Rs1069.81 crores. Three international firms had participated in the tender for the work which were received in LMRC on 21st April, 2015 and tender has finally been awarded to the lowest evaluated tenderer after detailed technical and financial evaluation as per terms and conditions of the tender document with the approval of LMRC Board of Directors.The trains are planned to be supplied within a very tight  schedule of 65 weeks from now and has the challenge of  supplying such state of the art trains in one of the shortest period known for  trains supply after placing an order.
These state of the art trains designed in France will be manufactured  in India by  ALSTOM Transport India Ltd in their plant near Chennai while Train Control & Signalling System will be supplied by ALSTOM Transport SA, France.
LMRC has been able to award this contract in a very strict time frame. Chief Secretary, Govt of UP and Chairman, LMRC Shri Alok Ranjan has directed Lucknow Metro team to expedite design preparation and approvals for rolling stock prototype to be finalised very expeditiously to ensure timely delivery of rolling stock for this extremely prestigious Dream Project of Honorable Chief Minister Sri Akhilesh Yadav.
Shri Kumar Keshav, Managing Director/LMRC, stated that the MRTS proposed in Lucknow is characterized by short inter-station distance of about one km between the stations, having a maximum design speed of 90 kmph & schedule speed of 34- 35 km per hour. Selection of technology for train cars for LMRC are governed primarily from design considerations for energy efficient, reliable and  better comfort to passengers in terms of riding quality, lower-noise level and environment friendliness. The body shell of cars made of stainless steel are lightweight. These highly energy efficient trains with regenerative braking shall feed  the energy  back to overhead electrical energy system during braking in operation. As a result regenerative braking will save about 30% to 35% of the total traction energy consumption. All systems in the train are monitored & selectively controlled by a microprocessor based Train Control & Management System (TCMS).
The salient safety feature planned for trains are proven design, crashworthiness, adequate redundancy in the system, use of fire retardant material, fire smoke detection & protection, safe passenger evacuation in emergency.
The passenger comfort & safety features planned are low noise inside trains, wide inter-car gangways for easy passenger movement, Public Announcement & Display  System with emergency communication facilities, CCTV  inside trains, passenger information display panels, ergonomically designed handrails, wheel chair spaces for handicapped, large windows, adjustable floor height of train for easy movement of wheel chair for differently abled passengers.
The state of art signaling system based on "Communication based Train Control" (CBTC) with Continuous Automatic Train Control System (CATS) has been selected. The main features of Train Control & Signalling system for Lucknow MRTS are Automatic Train Protection (ATP) with Cab Signalling with Track to train communication through Coded Audio frequency Track Circuits, Automatic Train Operation System (ATO), Automatic Train Supervision System (ATS) with Automatic Route Setting and Automatic train Regulation.
The trains will run in between stations automatically with minimum intervention of Train driver with the provision of Automatic Train operation system which also ensures that the train achieves timely, accurate and smooth station stops or stopping ahead of a restrictive point. The Automatic Train Supervision system will ensure automatic management of train movement by Automatic Route setting and Automatic Train regulation by supervising the train movement continuously and optimizing the train movements in case of abnormalities.
Now Lucknow Metro will have the modern train sets in time to commission the priority section from Transport Nagar to Charbagh by December, 2016 as per the target.
Daily Updates from Metro & Railway