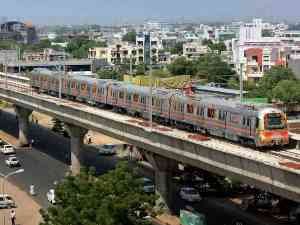 Lucknow: The work for Transport Nagar depot cum maintenance workshop of Lucknow Metro Rail Corporation (LMRC) has gained momentum and is slated to be completed by September, 2016 to ensure that the Rolling Stock (Metro Train) arrives in depot for testing and commissioning before the start of trial runs.
The LMRC engineers posted for this depot work are leaving no stone unturned to complete this project within the stipulated 18 months of time- frame as envisaged in the contract that was awarded for the work in April, 2015.
At present, the civil, electrical & maintenance works for construction of depot including the structural, plumbing, drainage, external development, road works, electrical, mechanical etc. are going at a rapid pace with the work of other departments going in- tandem.
Lucknow Metro's train cum maintenance depot will be spread over 46.5 acres of land and will have the modern state-of-the-art-facilities of Automatic Train Washing plant, Inspection Bay, Workshop, Stabling Lines, Electric Sub- Station/Receiving Sub- Station, Training Institute, Depot Control Centre (DCC), Operation Control Centre (OCC), Sewage Treatment Plant (STP), Effluent Treatment Plant (ETP), Electric Traction Unit/OHE Equipment Room and other related technical functionaries.
All the trains shall we washed automatically while entering the Train Depot at pre- defined intervals. The routine maintenance shall be carried out in the inspection bays. Major repairs and overhauls shall be carried out in the workshop. One of the inspection lines is proposed to be provided with retractable Over Head Equipment (OHE) so that in order to attend to the roof mounted equipments of the train, the OHE can be slewed with the push of switch.
"The construction and completion of this depot is very crucial from the point of view of commissioning of Metro trains as the trains will directly be brought to Inspection Bay & Workshop before they are inducted to the mainline for trails. Lucknow Metro Rail Corporation (LMRC) is determined to complete the depot project timely and successfully within the sanctioned budget.", as per LMRC spokesperson.
Daily Updates from Metro & Railway