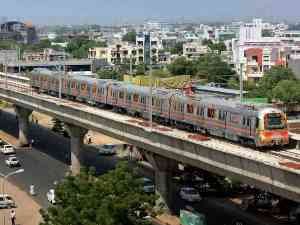 Lucknow: Lucknow Metro Rail Corporation (LMRC) has issued combined tender for rolling stock and signaling system to save time and bring more efficiency in the metro project. It is for the first time that both tenders are being awarded jointly for a metro project in the country. It has recently awarded the contract for supply, testing and commissioning of 80 cars for 20 trains of four car each along with train control and signalling system for Lucknow Metro Phase-1A project to French company, a consortium of ALSTOM Transport India Ltd, Bangalore and ALSTOM Transport SA, France at a cost of around Rs.1070 crore.
Three international firms had participated in the tender for the work which were received by LMRC on April 21, 2015 and tender has been finally been awarded to the lowest evaluated tenderer after detailed technical and financial evaluation as per terms and conditions of the tender document with the approval of LMRC Board of Directors. Metro officials said, "The trains are planned to be supplied within a very tight schedule of 65 weeks from now and has the challenge of supplying such state of the art trains in one of the shortest period known for trains supply after placing an order."
These state of the art trains designed in France will be manufactured in India by ALSTOM Transport India Ltd in their plant near Chennai while train control and signalling system will be supplied by ALSTOM Transport SA, France. LMRC said it has been able to award this contract in a very strict time frame. Chief Secretary, Government of UP and Chairman, LMRC Alok Ranjan had earlier instructed the Lucknow metro team to expedite design preparation and approvals for rolling stock prototype to be finalised very expeditiously to ensure timely delivery of rolling stock for dream project of chief minister, Akhilesh Yadav.
Managing Director, LMRC, Kumar Keshav stated that the MRTS proposed in Lucknow is characterized by short distance of about one km between the stations, having a maximum design speed of 90 kmph and schedule speed of 34- 35 km per hour. Selection of technology for train cars for LMRC are governed primarily from design considerations for energy efficient, reliable and better comfort to passengers in terms of riding quality, lower-noise level and environment friendliness.
Daily Updates from Metro & Railway