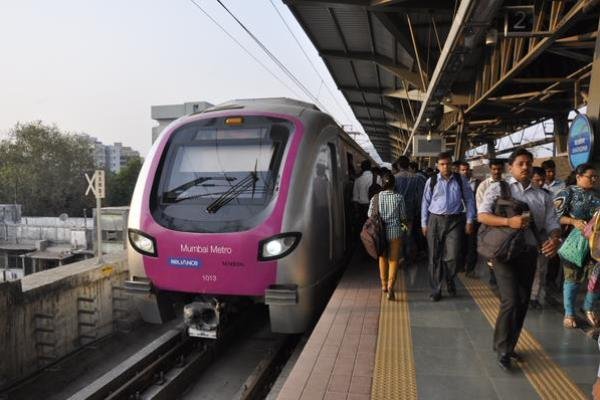 Mumbai: Commuters travelling in Mumbai Metro are really happy with the officials introducing Paytm facility at metro stations. All one has to do is scan the code and enter the metro station. No need to stand in queue at the ticket window or vending station. Using mobile phone, commuters have to use the Paytm App to make payments and hop on to the ride.
This simple interface has made life easier for Mumbai Metro travelers who otherwise have to stand in queues to get ticket either at metro or local stations.
Those traveling in metro are flooding the Mumbai Metro Twitter feed with positive feedback. Commuters who were otherwise facing issues while traveling in metro are now finding it easier to commute in mass transit system.
One journey. One destination. Get there faster with Mumbai Metro. Get your metro ticket instantly by downloading #PayTm or #Ridlr app on your phone and just #SkiiipQ #MumbaiMetro pic.twitter.com/I3amkYbb0D

— Mumbai Metro (@MumMetro) June 28, 2018
Suddenly @MumMetro travel is so easy! Buy the tkt on your phone using @Paytm and scan at entry. No lines, no cards!
#Payments made easy! pic.twitter.com/onqJKVD6Qw

— Richa (@MumbaiMuggle) July 11, 2018
The Mumbai metro is a godsend. I cannot imagine surviving without it in this kind of weather especially after the Andheri bridge breaking off and being closed. People who criticize the metro should try to get an auto or travel by a bus in Mumbai at this time of the year.

— V (@eh10kingdom) July 9, 2018
And this is not all. A rider had lost his metro card while traveling. The rider got his card back within no time and is all praise for the officials.
Here is the Tweet thread of the commuter who got back his lost smart card:
The next thing I know, I get a call from their support team. They guide me in purchasing a new card and transferring the old balance to the new card within 2 days!
That's good service! Kudos to the team!
Cheers!

— Lancelot (@Lanzomaniac) July 12, 2018
For all those who are still using old public transport, it is time to switch to metro. You travel with easy and comfort. In fact now you don't even have to stand in long queues to buy ticket, use mobile to make payments and get your ticket within seconds.
Daily Updates from Metro & Railway