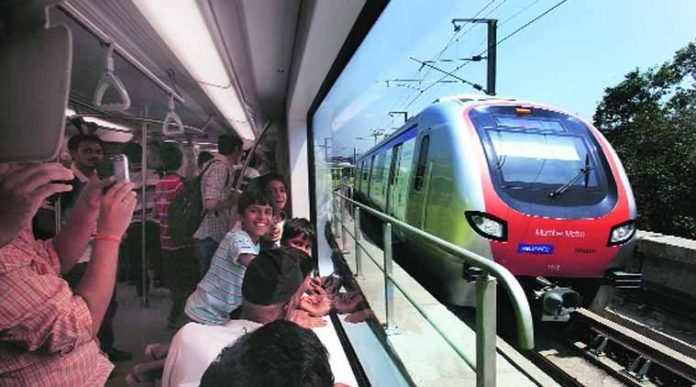 Mumbai Metro: As concerns about the possibility of flooding in the underground corridor of Metro 3 during the monsoon increase, Mumbai Metro Rail Corporation (MMRC) has said it would be safe during the rains. Calling it an "water-tight project," Ashwini Bhide the Managing Director of MMRC, said: "The Metro 3 corridor extends at least 25 m below the surface and is an water-tight project where it is impossible to filter and / or clog the Water".
In a recent letter from the Development Authority of the Metropolitan Region of Mumbai (MMRDA) to the Guzdar Scheme Resident Trust in Khar explaining the reasons for building Metro 2B as an elevated walkway, he said: "It should be noted that in the case of heavy rains when the city's roads are flooded, all level systems and underground systems are severely affected During the heavy floods in Mumbai, just a few days ago, only the elevated subway and the monorail continued to operate without interruption. , in such floods, it is likely to be affected despite all the necessary precautions. "
However, S K Gupta, the Director (Projects), MMRC, explained that the Underground Metro has been designed to ensure there is no flooding. "We identify the ways in which water can enter the tunnel and plug it in. It's part of our design philosophy," he said.
The entrance of rainwater is possible through several points and axes. But these would be built at least 60-90 cm above the 100-year flood level. "Maximum flood levels were recorded during 2005. Since it is a recent event, we have all the data," said Gupta.
The only exception would be in Hutatma Chowk, where the entrance of the station would be built 60 cms above the flood level, the lowest among the 26 underground stations. "Given that it is an area of ​​heritage, we do not have much space there, but as an additional precaution, we will place gates in the station," added Gupta.
To prevent rainwater seeping through the tunnels, Metro 3 will have special joints between the segments. "These are made of hydrophilic material, which swells when it comes into contact with water, preventing any leakage," said Gupta. If the water still enters the tunnel, it would be collected through a chain of drains and eventually pumped. "The entry of rainwater can cause some inconvenience, but it will not flood the metro, it can be easily pumped and dried," he added.
Daily Updates from Metro & Railway