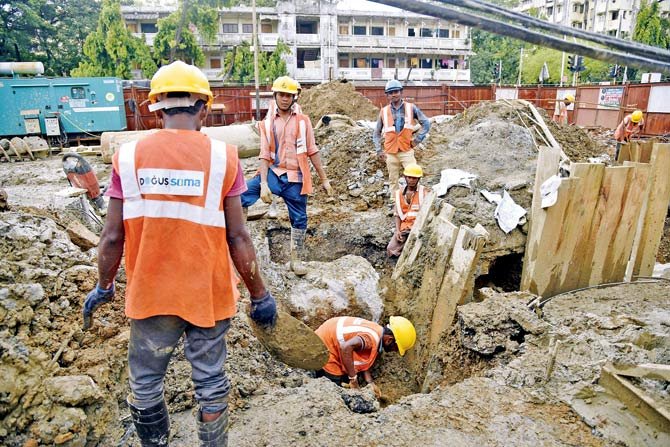 In order to complete construction work in the Cuffe Parade area for the Metro III line, the Mumbai Metro Rail Corporation (MMRC) has approached a High Court-appointed committee seeking urgent permission. MMRC wants to carry out construction work round-the-clock on this line.
It was in last December that the Bombay High Court had restricted the MMRC from carrying out construction work. The restriction was imposed as the work was causing high level of noise pollution in the area and causing inconvenience to residents. The court was hearing PILs that aimed at raising issue of noise pollution caused due to construction work for setting by metro rail. Another issue that was brought under notice was felling of trees to make way for Mumbai metro.
The court had instituted a committee comprising of justices B R Gavai and S M Kemkar to hear matters associated with noise pollution caused by the ongoing construction work of the Metro III (Colaba to Seepz) line. The MMRC has filed a request before the committee, which sits in the high court.
In the application filed by MMRC, the officials have stated that the tunnel-boring work in south Mumbai, Chuffe Parade area can only be done during minimal traffic. It is only during the night that the traffic is less and work can be carried out hassle-free. As per the metro authorities the application states that work will go on till July end and might result in minimal noise pollution.
Amicus Curie (appointed to help the court) Zal Andhyarujina and advocate Robin Jaisinghani, one of the petitioners and a resident of the area, opposed the application.
If the court was going to give consent, then the MMRC should be asked to employ noise-suppressing barriers, they said. The committee noted that it was empowered to give such permissions. It would listen to the parties involved and communicate its judgment and suggestions to the high court bench, which is hearing the main petition, it said. The committee would carry on to hear the arguments on the application on June 7.
Daily Updates from Metro & Railway