Nagpur (Metro Rail News): The Maharastra Metro Rail Corporation (Maha Metro) Started 1st Trial Run for Nagpur Metro Reach 3 on Thursday, between Lokmanya Nagar and Subhash Nagar Metro Stations.
The trial run by Metro Train covered a distance of 5.5 km. The inaugural run was followed by media interaction with Maha Metro MD Dr Brijesh Dixit.
Trail Run Glimpse:
A Drone view of Stations and Trains
Maha Metro MD Interact with Media
Solar Status
Khapri Metro Station 67.92kw
New Airport Metro Station : 112.45kw
South Airport Metro Station : 132.275kw
Airport Metro Station : 172.80kw
Metro Bhawan : 273kw
Up to 80% Power consumption by Solar of Station (Green Energy) Estimated Energy per year 3.8 Lakh Units
Lokmanya Nagar-Sitabuldi metro stretch to be operational in August 2019
"The 10.8 kms long Nagpur Metro Reach III covers Bansi Nagar, Wasudeo Nagar, Rachana (Ring Road), Dharampeth College, LAD College, Shankar Nagar Square, The Institution of Engineers, and Jhansi Rani Square", Said Dr. Brijesh Dixit Dixit.
Lokmanya Nagar Metro Station
Lokmanya Nagar metro station connects the semi-urban and rural parts of Nagpur district to Nagpur city. This station will serve as the gateway to Hingna, where several educational institutions and industrial units are located.
Subhash Nagar Metro Station
Subhash Nagar station will serve as a disembarking point for fun-lovers, owing to its proximity to Ambazari lake, which is one of the beauty spots of the city. Both the stations, like others in Reach-III, have 'Aqua Theme', as the alignment is adjacent to Ambazari lake.
Walkway
A glass segment will be installed on metro route pillars from Subhash Nagar. It will serve as a walkway from Subhash Nagar to Dharampeth College. While walking down the 730-metres long walkway and enjoying the beautiful scene of Ambazari lake, people can enjoy food as there will be a restaurant, relaxing zone, and shops etc.
Security
Fifty CCTV cameras will be installed at each of the stations to ensure tight security even at night. Besides, Lokmanya Nagar and Subhash Nagar stations both will have escalators, elevators, lifts, baby care rooms, tactile flooring for visually impaired people, and ramp for physically challenged persons. Wheelchair access will be there for wheelchair-bound passengers.
"Maha Metro had earned Rs 18 lakh since launching the operations on Wardha Road route. So far, 1.50 lakh passengers have travelled in metro train" Said Mr. Dixit. Once all the stations become operational, the ridership will increase, he said.
Replying to a question, Dixit said that the work had slowed down for three months during the Lok Sabha elections as many labourers had gone to their native places. Now that they are returning, the work is gaining momentum again, he added.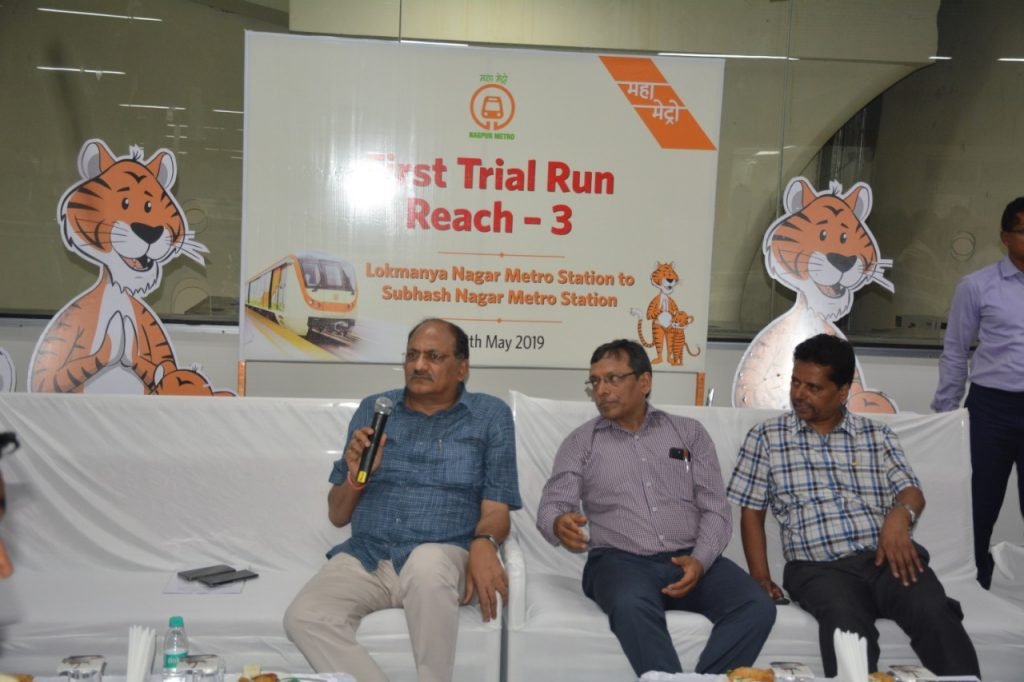 The Phase-I of the project would be completed by the middle of the year 2020 and Maha Metro was in a comfortable position in executing the work, he said in reply to another question. The work of under-bridge at Jaistambh and Loha Paul will be started soon, he added.
As far as the work of demolishing the flyover in front of the railway station was concerned, he said that it would be taken up once the construction of proposed mall where existing shop-keepers would be shifted was started.
The construction of mall can be started only after getting possession of the lands of Madhya Pradesh bus stand, school, and Maharashtra State Road Transport Corporation. Asked about summer heat this year, Dixit said that it had helped Maha Metro as solar energy generation was good.
The station-wise generation of solar power is as follows: Khapri — 67.92 kw, New Airport — 112.45 kw, South Airport — 132.275 kw, Airport — 172.80 kw, Metro Bhawan — 273 kw. Mahesh Kumar, Director of Maha Metro; Shivmathan, General Manager (Finance); Anil Kokate, General Manager and other officers were present prominently during the trial run.
Daily Updates from Metro & Railway