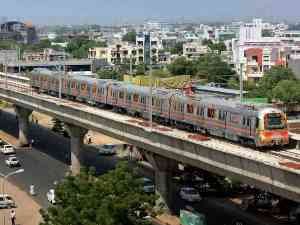 Patna: The process of implementing Patna metro rail project has taken off with an estimated total cost of Rs 16960 crore, the 16.9 km stretch of Patna metro project would be made jointly by the various financial institutions including Asian Development Bank, Japan International Cooperation Agency (JICA) and Central government assistance.
Bihar government will invest 6544 crore, take equity loan of Rs 7812 crore from JICA/ADB, and rest amount from Centre, a special purpose vehicle (SPV) corporation to be formed after getting clearance from Centre.
The principal secretary urban development and housing department Amrit Lal Meena told on Monday the proposal to this effect has already been sent to the Centre for its approval. "Once it gets approved we will have to raise equity loan from various financial institutions", Meena told Media.
Last month The Nitish Kumar government approved the Metro Rail Project in Patna. A budget of Rs 16,960 crore (including all taxes) has been allocated for the project which will see Metro services resuming in the city from 2021. The metro network will have 14 stations initially and will run from Saguna More to Patna Junction.
The Bihar government started working on the project from 2011, and an initial draft was prepared in 2013. The state government had then asked Rail India Technical and Economic Service (RITES) to prepare a feasibility report.
According to the plan, the Metro services in Patna will be rolled out in three phases. In the first phase work will be completed in the east-west and north-south corridors. The metro will run on two routes under the PPP (Public Private Partnership) mode.
Daily Updates from Metro & Railway