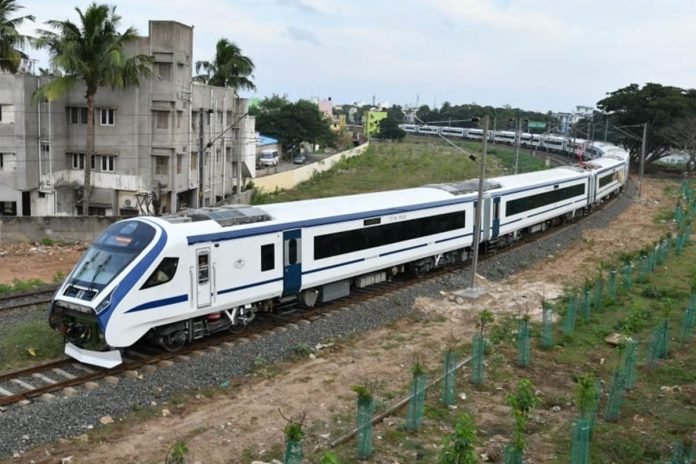 NEW DELHI (Metro Rail News): Indian Railways' Integral Coach Factory (ICF) in collaboration with Department of Posts has released a commemorative stamp on Indian Railways' first indigenous semi high-speed train set Vande Bharat Express.
The price of the stamp is Rs5. In the stamp 'Vande Bharat Express' is written in both Hindi and English languages. The Integral Coach Factory (ICF) is also written at the bottom of the stamp.
The Chennai-based Integral Coach Factory, which manufactured these state-of-the-art trains, has also become the largest rail coach-maker in the world with 2,919 coaches being produced in a 12-month period till February this year.
Vande Bharat express, also dubbed as 'Train 18', can run up to a maximum speed of 160 kmph and has travel classes like Shatabdi Train but with better facilities in a bid to provide a totally new travel experience to passengers.
The train features include a GPS based audio-visual passenger information system, onboard hotspot Wi-Fi for entertainment purposes, pantry and bio-vacuum toilets, the train has also been equipped with improved seating, a facility for the freezer, hot case and other technical improvements based on passenger feedback.
In February this year, PM Narendra Modi had flagged off the train's maiden run from New Delhi to Varanasi.
The train is designed and developed by a Chennai-based Railways Production unit, Integral Coach Factory in just 18 months which also includes the in-house design and manufacture, computer modeling and working, etc.
Adding up the green footprints, this fully 'Make in India' train has regenerative braking system in the coaches which can save up to 30 % of electrical energy. The new set of Train 18 is likely to commence operations between Delhi and Katra.
The official said the new Vande Bharat Express will leave from Delhi at 6:00 a.m. and reach Katra at 2:00 p.m. And on its return journey on the same day, the train will depart from Katra at 3:00 p.m. and reach the national capital at 11 p.m.
A railway official speaking to IANS said that Railways has decided to run the train at a maximum speed of 130 km on the Delhi-Katra route will have three stops en route. The train will stop at Ambala, Ludhiana, and Jammu Tawi before reaching its destination of Katra.
Daily Updates from Metro & Railway