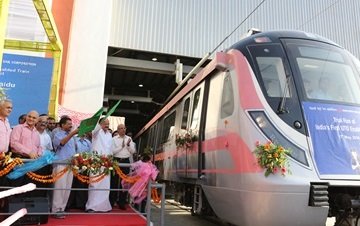 New Delhi: The longest corridor of Delhi Metro's Phase 3 project, the Pink Line (Mukundpur-Shiv Vihar), will be opened in its entirety by September next year.
Launch of the 58.389 km-long line has been divided into three phases as the Delhi Metro Rail Corporation (DMRC) still hasn't been able to acquire land at Trilokpuri and Hasanpur village in IP Extension.
"The issues we are facing are only on one side of the line — East Delhi. More than Trilokpuri, land hurdle at Hasanpur village is affecting us as it just cuts the line's connectivity to the new Vinod Nagar depot. So, while we have the stretch from Shiv Vihar to Karkardooma ready, we can't run it because we do not have anywhere to park our trains at night," said Mangu Singh, managing director, DMRC.
The Mukundpur to Lajpat Nagar (18 stations) stretch on the line will be opened in June, followed by Lajpat Nagar to Mayur Vihar Pocket-1 (five stations) in July. The last stretch of 14 stations from Mayur Vihar Pocket-1 to Shiv Vihar will be launched in September.
The Pink Line with 38 metro stations is the most significant corridor of the entire Delhi metro network as it has been laid like a ring touching all parts of Delhi. With eight interchange stations the line alone is going to take the maximum load of the 40 lakh per day metro ridership which is expected after opening of Phase 3.
"Since we realised this matter is not going to be resolved soon, we have tweaked the entire plan now. There is going to be a good gap between the opening of the first and the last stretch. So, we have made new arrangements for reversal of trains at Mayur Vihar Pocket-1 station. Now all trains on the Pink Line will operate only through the Mukundpur depot until the entire line along with Vinod Nagar depot is opened," explained Singh.
The land acquisition hurdles at Punjabi Bagh and Mayapuri were resolved in July end this year. "We had planned accordingly and so physical work or installation of viaducts on the first two stretches will be over by December after which trial runs will begin," he added.
Source//DMRC
Daily Updates from Metro & Railway