JAMMU & SRINAGAR (Metro Rail News): To relieve the public transport between two cities of Jammu and Srinagar, the Jammu & Kashmir government...
PARTNERED INDUSTRY EVENTS
Metro Rail News team conduct an e-mail interview with Mr. Rajesh Agrawal, Member (Rolling Stock), Railway Board and ex-officio Secretary to the...
What are some of the highlights of ELECRAMA 2020? How will it be different from previous editions?Mr. Anil Saboo: ELECRAMA...
LATEST ARTICLE AND INDUSTRY UPDATES
Revenue generation for Indian Railways is very important, as it cannot survive without increased revenues. The public, in general, is in the habit...
Noida (Metro Rail News): In order to increase the revenues from sources other than farebox, Noida Metro Rail Corporation has recently floated...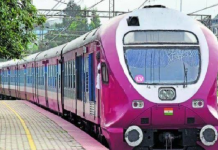 KOCHI (Metro Rail News): Kerala Finance Minister Thomas Isaac announced that the semi-high-speed rail project, connecting Kasargod and Thiruvananthapuram, will be completed...
DELHI (Metro Rail News): The Ministry of Railways said that there is no plan to privatise Indian railways operation except outsourcing the commercial...
AMARAVATI (Metro Rail News):  The Andra Pradesh Government Cancels the Essel Infra Consortium contract and issued orders for calling quotations for preparation of Detailed...
MUMBAI (Metro Rail News): Mumbai Metro Rail Corporation (MMRC) has received a remarkable response from various organizations to acquire rights to name stations...
HYDERABAD (Metro Rail News): Chief Minister K Chandrashekhar Rao inaugurates the much-awaited Hyderabad Metro's Green Corridor, (JBS-MGBS) on February 7, 2020, at 4...
Mumbai (Metro Rail News): The Railway Board has provided a big boost of ₹5,000 crores to the Mumbai-Ahmedabad High-Speed bullet Rail Project...
NEW DELHI (Metro Rail News): India Railways is working on the development of a Hydrogen-powered suburban train and has floated an Expression...
New Delhi (Metro Rail News): Indore-Varanasi private Humsafar Express is coming soon! IRCTC's third private train on the Indian Railways network would run in...
MAHARASTRA (Metro Rail News): The chief minister of Maharastra, Uddhav Thackeray has termed Prime Minister Narendra Modi's Pet Mumbai-Ahmedabad bullet train project...
KOCHI (Metro Rail News): Kochi Metro Rail Limited (KMRL) has signed a project agreement with AFD (French Development Agency) for Non-Motorised Transport...
GHAZIABAD (Metro Rail News): Government of Uttar Pradesh gets detailed project reports (DPRs) of two proposed metro corridors – Vaishali to Mohan...
MUMBAI (Metro Rail News): Mumbai Metro Line 7 Civil contract cost Rs 348 crores awarded to Simplex Infrastructure Limited cancelled through Mumbai...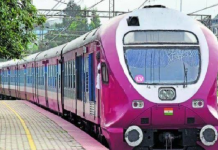 BENGALURU (Metro Rail News): The price structure of Bangaluru suburban rail network project will be based on the metro rail model, according...