"Success" is a multi-faceted word! Professionally, for me, success is to build a brand that is trusted by customers and delights customers.
MUMBAI (Metro Rail News): The Mumbai Metro Rail Corporation Limited (MMRCL) ultimately finished the Colaba-Bandra-SEEPZ Metro 3 project's tunnelling construction on November 29, providing...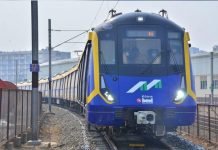 MUMBAI (Metro Rail News): The Mumbai Metro Line 2A (Dahisar to DN Nagar, Andheri West) and Line 7 (Dahisar East to Andheri East), both...
NEW DELHI (Metro Rail News): The upcoming trial run of the country's first Regional Rapid Transit System (RRTS) trains on a 17km priority stretch...
KOLKATA (Metro Rail News): Considering the demand of the passengers, the South Eastern Railway (SER) authority has decided to augment the 18410/18409 Puri-Shalimar-Puri Sri...
INDORE (Metro Rail News): Manish Singh, the managing director of Madhya Pradesh Metro Rail Corporation, announced that the Priority Corridor of the Indore Metro...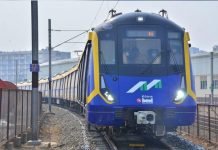 MUMBAI (Metro Rail News): Metro One is now available to commuters departing in the morning starting at 5:30 am. There will now be 28...
KERALA (Metro Rail News): The state government formally postponed the social impact assessment (SIA) for the proposed SilverLine semi-high-speed railway project until it receives...
NEW DELHI (Metro Rail News): The National Capital Region Transport Corporation (NCRTC), creating the ambitious Delhi-Meerut RRTS, is awaiting Central permission for the project's...
NEW DELHI (Metro Rail News): A Senior official stated that the railways plan to export Vande Bharat trains to markets in Europe, South America,...
ORISSA (Metro Rail News): Railway Minister Ashwini Vaishnaw stated on 26th November that Indian Railways intends to introduce the "Jagannath Express," modelled after the...
CHANDIGARH (Metro rail News): A 64.3-km metro rail network connecting Chandigarh, Mohali, and Panchkula has been proposed by the Indian Railways consulting firm RITES...
JAIPUR (Metro Rail News): A crucial step was taken on November 21, 2022, when Rajasthan Chief Minister Ashok Gehlot approved financial support for Rs...
HYDERABAD (Metro Rail News): The engineering and construction company Larsen & Toubro (L&T), which constructed the Hyderabad Metro Rail, is not an automatic choice...
TELANGANA (Metro Rail News):  Chief Minister of Telangana, K. Chandrasekhar Rao, will lay the foundation for the Hyderabad Express Express Metro next month. The project's 31...