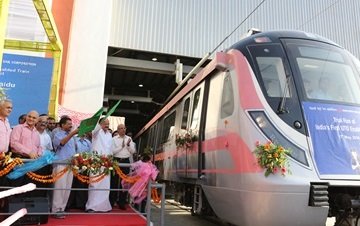 New Delhi: Delhi Metro Rail Corporation (DMRC) on Wednesday conducted three successful trial runs on the Magenta line between Kalindi Kunj depot station and Okhla Vihar Metro station of the Janakpuri West-Botanical Garden line — the first in phase 3.
In a statement, Delhi Metro Rail Corporation (DMRC) said three sets of trains were tested successfully
The crisscrossing of the new lines with the existing corridors at many places will lead to the emergence of these interchange stations, thus, dramatically shortening the distance between two different parts of the city by up to 15 km at some places.
"During the trials, the interface of the metro train will be checked to ensure there is no physical infringement with civil infrastructure during its movement on the track. The subsystems of the coaches will also be tested.
The Magneta line would hugely improve metro connectivity. Passengers coming from Gurgaon will be able to get down at Hauz Khas and take a direct train to Kalkaji via Line 8 instead of having to take the Violet Line from Central Secretariat.
Magnet line is a 34-km-long Janakpuri West-Botanical Garden (Magenta Line) which is expected to carry around 4 lakh commuters daily.
According to DMRC, the estimated ridership is 3, 61,356 from Janakpuri West to Kalindi Kunj and 46,054 from Kalindi Kunj to Botanical Garden.
In 2015, metro expanded to 213 km with 160 stations and seven different corridors crisscrossing the city while bringing into its fold nearby satellite townships like Faridabad.
The DMRC Wednesday also made a presentation on the proposed fourth phase of the Metro before Chief Minister Arvind Kejriwal, who had earlier given in-principle approval for the project.
buy viagra super dulox force online no prescription

Daily Updates from Metro & Railway