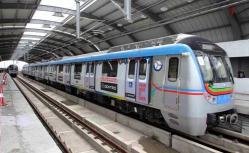 Hyderabad: Hyderabad Metro Rail is acquiring as many as 81 properties to facilitate better traffic movement in the 72-km-long elevated project corridors in the city.
They are mostly meant for road widening to facilitate better traffic movement in Metro corridors," HMR Managing Director NVS Reddy said, adding that five critical foundations in different areas have been completed by utilising continuous holidays during the recent festival period.
At yesterday's Special Task Force (STF) meeting convened here by Telangana Chief Secretary Rajiv Sharma to review the progress of HMR project, Reddy made a detailed presentation on Action Taken Report (ATR) on the decisions taken at the previous STF meeting.
He informed the Chief Secretary that most of the 'Right of Way' issues have been sorted out.
"Other than Transitory building on Road No 5, Jubilee Hills, the remaining critical properties have either been acquired or in the final stage of being acquired," an official release quoted Reddy as saying.
Meanwhile, Sharma observed that a large number of work fronts are available for the concessionaire and that L&T MRHL should make full use of this working season and complete most of the foundations during this season.
He also noted that works are being carried out by L&T MRHL beyond the permitted period and this is prolonging the traffic hurdles and that he wanted L&TMRHL to strictly adhere to the time schedule.
L&T Metro Rail Hyderabad is developing the 72-km elevated metro rail project which will have three corridors and 66 stations.
The Hyderabad Metro Rail Project is the world's largest public-private partnership project (PPP) in the sector.
The metro network will cover a total distance of around 72 Km across three corridors, transporting Hyderabad to the future.
Daily Updates from Metro & Railway