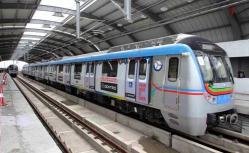 New Delhi: The Hyderabad Metro Rail (HMR) authorities have identified 35 key properties in different stretches where the work was halted because the properties acquisition was mired in court cases. The same was presented to the Telangana Chief Secretary, Rajiv Sharma, to be taken up with the Advocate General for expediting the court cases.
About 103 more properties are still be acquired for road widening in the three Metro Rail corridors and prominent properties such as the Transstroy building in Jubilee Hills, Rehmat Complex at Ameerpet Junction, Nandakumar/Padmahamsa Apartments near Sangeet Junction, RAK Ceramics building at Begumpet, etc., which are critical for the Metro Rail's right of way need to be taken over.
The land acquisition process for these buildings is at various stages, HMR MD N.V.S. Reddy informed the special task force meeting on Tuesday that nine key properties have been taken over in the last couple of weeks clearing the way for faster progress of works at the new Gandhi Hospital, RTC Crossroads, Chikkadpally, Narayanguda, Begumpet, Road No.5 of Jubilee Hills and so on.
Giving a glimpse of the progress of works so far, Mr. Reddy has indicated that the Metro Rail construction activities have gathered speed and 1967 foundations (52 km) and 1860 pillars (49 km) have been laid and that 47 km of the total 72 km viaduct has also been completed.
The Chief Secretary wanted the concessionaire L&T Metro Rail Hyderabad (L&TMRH) to speed up the works since right of way has been given after taking due permissions from the traffic police, Water board, power utilities in several places and that barricades have to be removed soon after the completion of works with tighter timelines.
The shift of utilities should be faster in Musheerabad-Narayanaguda stretch of corridor-II – JBS to Falaknuma and Madhuranagar-Yousufguda-Krishnanagar stretch of corridor-III – Nagole to Raidurg, and closely monitor their progress. Mr. Sharma has also asked GHMC to share junction improvement plans in the Metro Rail corridors with the traffic police before tendering.
Daily Updates from Metro & Railway