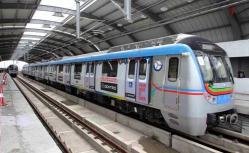 Hyderabad: Each typical metro station of Hyderabad Metro Rail will have retail space ranging from 2,500 square feet to 9,000 square feet while interchange and special stations will have more space, said project developer L&T announced today.
Two stores of 180 and 200 square feet have been created at Nagole station to showcase to retailers and others to give them a first-hand experience of the proposed space.
L&T Metro Rail (Hyderabad) Ltd chief executive and managing director VB Gadgil on today inaugurated the sample retail stores and unveiled the retail development plans.
Under the brand name Hyderabad Next, the retail space at the stations is being developed to cater to the daily requirements of commuters making metro their one stop solution.
Each centre will have convenience stores like grocery, vegetable, daily needs, accessory stores, quick service restaurants, large format food courts, ATMs, medical stores and laundry centres.
There will be a total of 64 stations including 55 typical stations, three interchange stations and four special stations. A typical station will have retail space ranging from 2,500 square feet to 9,000 square feet at two different locations at a concourse level. Station retail box will have stores sizes ranging from 100 square feet to 350 square feet while entry exit retail area will have store sizes ranging from 1,000 square feet to 2,500 square feet.
Interchange and special stations will have retail spaces ranging from 10,000 square feet to 40,000 square feet with store sizes ranging from 1,500 square feet to any maximum possible size.
These stations are being considered to be made as destination stations with kids, women, electronic, and entertainment themes.
The developer has also come up with a unique advertising model to make the advertising business more professional with reduced risk and return on investment to brands.
In June, L&T Metro Rail had announced that it will develop six million square feet of real estate at a cost of about Rs. 2,300 crore under the first phase as part of Metro rail project, which is expected to be commissioned in July 2017.
The construction major, which is building 71.16 km elevated Metro rail in public-private partnership, has already achieved financial closure for the first phase of Transit Oriented Development (TOD), which is scheduled to be completed with the commissioning of the Metro.
L&T also plans to take up development of 12.5 million square feet of space over next 10 years. Mr Gadgil had hinted that this may require more than Rs. 5,000 crore.
In 2011, LTMRHL achieved financial closure for Rs. 16,375 crore – Rs. 14,132 crore for Metro rail system and Rs. 2,243 crore for first phase of TOD.
Daily Updates from Metro & Railway