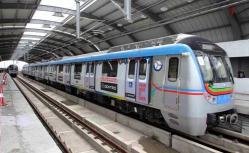 Hyderabad: On Sunday, a team of officials and journalists came from Hyderabad and took a ride in Chennai Metro Rail from Koyambedu to Alandur and also spoke to people, seeking their response.
After observing the facilities, managing director of Hyderabad Metro Rail Limited (HMR) N.V.S. Reddy said: "We wanted to see and emulate good practices adopted here. By looking at Chennai Metro Rail's plan for intermodal integration at various points like Chennai airport, Chennai Central station and bus depots, I am very impressed. We will follow this practice in Hyderabad as well.
buy stromectol online gaetzpharmacy.com/stromectol.html no prescription

"
Mr. Reddy said it may not be just enough to create a Metro Rail system but it had to be supplemented with feeder service if commuters have to use it. "Indian cities do not understand the importance of pedestrians or bicycles. If you want people to use public transport, then there should be 'end-to-end connectivity. The moment a commuter leaves home there should be a feeder service to take him to the station nearby," he added. But it is to be noted that though Chennai Metro Rail was launched two months ago, the feeder service is yet to be put in place.
Mr. Reddy said it was challenging to build Metro Rail facilities in Indian cities as they were congested. "When I was abroad many years ago, I wondered if such systems could be brought to India. But I am glad Mr. Sreedharan first successfully built the system and now several cities are implementing it," he added.
When asked if Hyderabad Metro Rail will also have a special class like Chennai, he said this facility may not be incorporated there. "This is a unique feature in Chennai Metro alone. Usually Metro Rail systems do not have it," he added.
Daily Updates from Metro & Railway