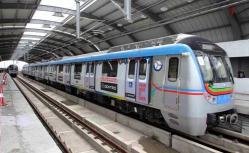 Hyderabad: V B Gadgil, Chief Executive and Managing Director, L&T Metro Rail (Hyderabad) Ltd, was conferred the 'Infrastructure Person of the Year' award and LTMRHL was named 'Upcoming Metro Rail Project of the Year' during the 5th Construction Week India Awards Night held at Mumbai.
Chennai Metro, Jaipur Metro, Rapid Metro & Mumbai Metro were among the projects in the fray for the award.
Construction Week India Awards recognise and reward the achievements of the country's best in the construction and infrastructure business. The awards acknowledge the efforts of projects, persons and companies that have outshone others in their respective categories. The 5th Construction Week Awards had 350 entries from 31 cities in 18 categories. Besides, there were nine special awards.
V B Gadgil said, "These awards are feathers in the cap of L&T Metro Rail (Hyderabad) Ltd & Hyderabad Metro Rail Project. Such awards reinstate our commitment to the project and the people of Hyderabad in developing the best metro rail for the city. These accolades inspire all the people working for the project."
Daily Updates from Metro & Railway