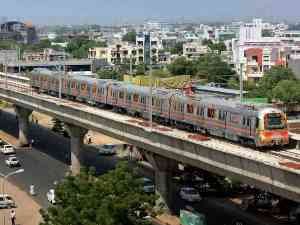 Jaipur: The Jaipur Metro Rail Corporation (JMRC) has got a new ray of hope for construction of Jaipur Metro phase II, under public private partnership (PPP) as a Chinese delegation has shown interest to invest in the project.
A Chinese delegation led by Nicholas Hou, president of Hupion Sourcing Ltd, met the chief minister and chief secretary and expressed an interest to invest in Jaipur Metro. Jaipur Metro Rail Corporation (JMRC), project director, Ashwini Saxena, who was present during the meeting, said, "The delegation has shown interest in construction of Phase II.
buy fildena online https://healthcoachmichelle.com/wp-content/themes/twentytwentyone/inc/en/fildena.html no prescription

The delegation was briefed about the project."
This has revived the hope of JMRC as till date it has received no response from six foreign companies, which were approached to construct the Metro under PPP mode.
A senior official informed that despite giving lucrative offers, no company has shown positive response. "The estimated cost for phase II is Rs 10,000 crore. It has been proposed that the state government will provide 40% as viability gap funding to the awarded company. The remaining 60% will be borne by the state government and the company," he said.
Moreover, the state government is willing to handover the operation and maintenance of phase I and B after spending Rs 3,149 crore. A source said, "As per the proposal, the state government will bear Rs 7,000 crore and the company has to pay Rs 3,000 crore. Additional benefit will be given by transferring operation and maintenance of Phase (I), which means fare will be collected by the company."
"Equal stakes will be provided to the company in Metro projects in the state. While the total investment of the state government will be Rs 10,000 crore, the company will pay Rs 3,000 crore only," the source added.
Daily Updates from Metro & Railway