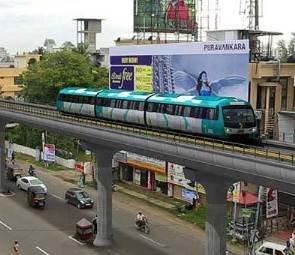 Kochi: The Delhi Metro Rail Corporation (DMRC) will start placing the rails on Kochi Metro's viaduct, starting July 15. The Metro agency is awaiting sanction from the Research Design and Standards Organization (RDSO) of the Indian Railways to carry out the work.
"It's mandatory to obtain sanction. The rails and design have to meet the specifications of RDSO. We have already approached railways. We expect to get it before July 15," said DMRC project director Dani Thomas. Each 18m-long rail has to be lifted and placed on the viaduct. "These have to be welded together. But, we are not keen on doing such high precision work during heavy rains," he added.
The Kochi Metro requires about 7,000 metric tonnes of head-hardened rails. According to Kochi Metro Rail Ltd (KMRL) about 3,500 tonnes of rails for the project has already been imported. The remaining consignment will reach by the end of the year
Imported head-hardened rails are more durable than those used by the Indian Railways. There are sharper curves on a Metro line compared with the regular railway system. The rails can withstand pressure exerted by Metro trains that will be running every five minutes. These rails are being imported from France.
IRCON has secured the contract for laying rails from Aluva to Pettah. The rails are now being transported from the Cochin Port to Kochi Metro's yards. "The transportation is being done at night to avoid traffic congestion," said a DMRC spokesperson.
However, DMRC would opt for regular rails used by the Indian Railways at Muttom yard as trains would be moving at a slow speed.
The Muttom yard is expected be ready by November. The yard will have a 1km-long test track, facilities for unloading coaches and a stability shed. "We had a tough time while carrying out land-levelling works. All those issues have been sorted out and, currently, work at Muttom is progressing quickly," said Dani Thomas.
The third rail, which provides power to the train, has been imported from Germany. Kochi Metro uses the third rail traction system instead of overhead power lines. About 18,000m conductor rails have been imported.
"Around 200 bundles of third rail has arrived in Kochi. Each bundle contains six pieces. This is required for the 18km Metro stretch from Aluva to Maharaja's College.
buy wellbutrin online medstaff.englewoodhealth.org/wp-content/languages/new/wellbutrin.html no prescription

Our technical experts will inspect the consignment and take delivery," said a DMRC official.
Daily Updates from Metro & Railway