Mumbai: Employees of the Malaysian based Scomi Engineering involved in operations of India's first Monorail in Mumbai. They have now appealed to Chief Minister Devendra Fadnavis to find some solution for their salary issue. They urged the Chief Minister to restart operation of Monorail so that their issues can be resolved. If once the operation start employees will get new ray of hope that the will get their unpaid salaries since April 2018. In June, company told some employees to work from home and some were sent on leave due to issues raised between MMRDA and the Scomi Engineering.
MMRDA should charge to scomi for sending scrap trains to Mumbai.They cannot play with the career of 175 innocent Indian workers.@Ateeq# Employees didn't get their salary from past 2 months and now they have been asked to be at home.@MMRDA# please get some alternate options.

— Mukesh Gupta (@mukeshprofile) June 16, 2018
Fadnavis who is heads Mumbai Metropolitan Region Development Authority (MMRDA) which is the asset owner of Mumbai Monorail.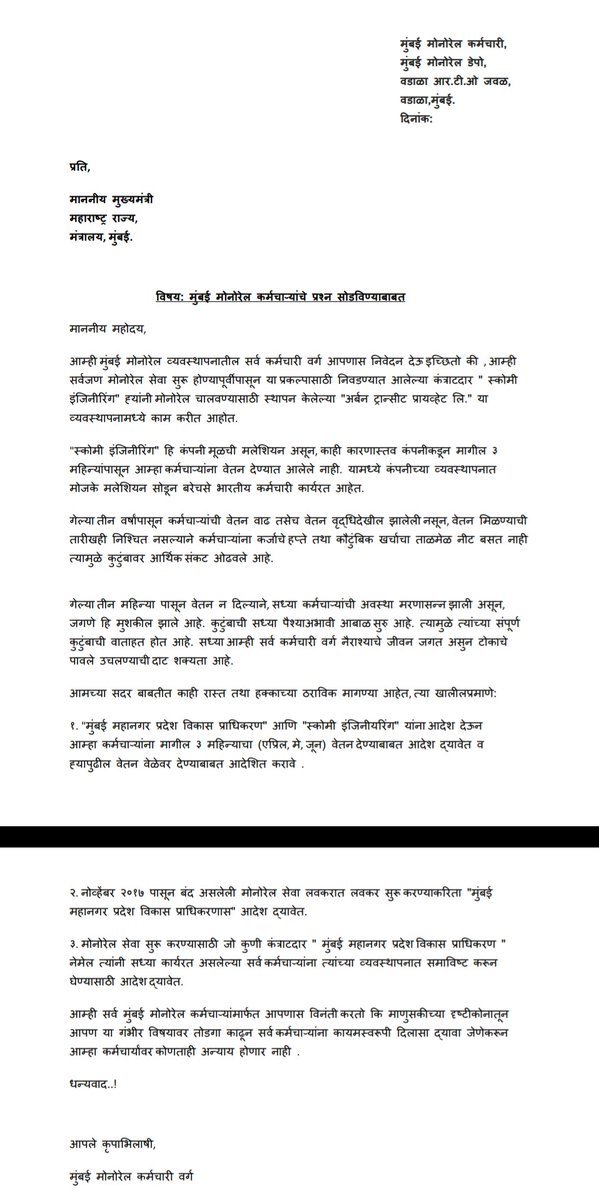 The fire incident in November 2017 stopped the monorail services between Chembur and Wadala. This fire incidence not only affected first phase, the second phase of Monorail between Wadala and Mahalaxmi was also could not be made operational. As there was not surety of services and commuters safety.
The employees have also appealed on Twitter saying how they have been not received their salary from last three years, their pay scale has also not increased. The cost of living is increasing every other day but they are not able to receive for which they are working.
The employees of Scomi are from different department viz. electrical, rolling stock, operations, systems, security, pilots and also station masters. Even vendors, suppliers, other agencies have not got their payments.
"Mumbai Mono Rail employees suffering in delay of salary payment, even employees did not got appraisal from past 3 years and from 2016 onward delay of salaries has been hovering, from April 2018 more than 200 employees has not got their payment. Which creates insecurity in the minds of employees' even numbers of employees has left their job. This also reduces the number of employees from 350 to 200 only," stated Scomi employees.
"We have not got our salaries since April 2018 and are also left jobless considering we are asked to sit at home. We have appealed that the state government should take immediate action to restart the Monorail operations", employees added.
Daily Updates from Metro & Railway