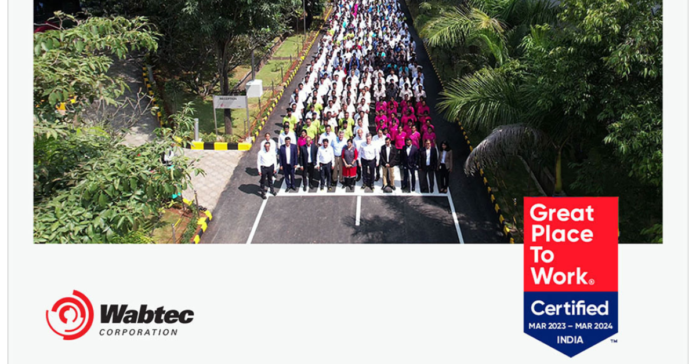 HOSUR, TAMILNADU (Metro Rail News): Wabtec Transit, a subsidiary of Wabtec Corporation, a top technology supplier for the freight and transit rail industries, announced that its three India-based sites in Hosur, Baddi, and Bahadurgarh have received the Great Place to Work certification.
Managing Director of Wabtec Transit, Ajay Mani, expressed his pride in receiving recognition from Great Place to Work for the second time. He believes this acknowledgment reflects the excellent culture, career progression opportunities and growth the company offers, as well as the dynamic market they serve.
Wabtec Transit's role in the Indian Railways and metro systems 
The Transit business of Wabtec is one of the top providers of subsystems for the Indian Railways and metro systems. The company is experiencing immense growth, with over 1,250 employees working at the three main manufacturing locations and customer sites.The primary facility and administrative office for the Transit business in India is the Hosur plant, where almost all the products in the Transit portfolio are manufactured.
Great Place to Work's role in evaluating workplace culture
Great Place To Work is a renowned global organization that is considered an authority in workplace culture. It has extensive experience of 30 years in conducting groundbreaking research and collecting data to aid organizations in creating a workplace that is ideal for all employees. Their exclusive platform and For All™ Model provide an extensive evaluation of the experience of each employee, with exceptional workplaces receiving recognition on the Best Workplaces™ List or Great Place To Work Certified.
Wabtec Corporation's mission to revolutionize transportation 
Wabtec Corporation (NYSE: WAB) has a mission to transform the transportation industry for future generations. The company supplies equipment, systems, digital solutions, and value-added services globally to industries such as freight and transit rail, mining, marine, and industrial markets. With over 150 years of experience in the rail industry, Wabtec aims to establish a zero-emission rail system in the U.S. and globally.
Daily Updates from Metro & Railway