CHENNAI (Metro Rail News): The Asian Infrastructure Investment Bank (AIIB) will fund Rs 2,306 crore ($320 million) for the construction of nearly 18km long elevated stretch between Meenakshi College in Kodambakkam and Poonamallee Bypass, which is part of Chennai Metro Rail Limited's (CMRL) ambitious 118.9km 3-corridor phase-2 project.
According to the official, the tenders will issue in the next two to three months. A detailed design consultant, who will design the stations and the line, is already on the job. Soil test on this stretch is also completed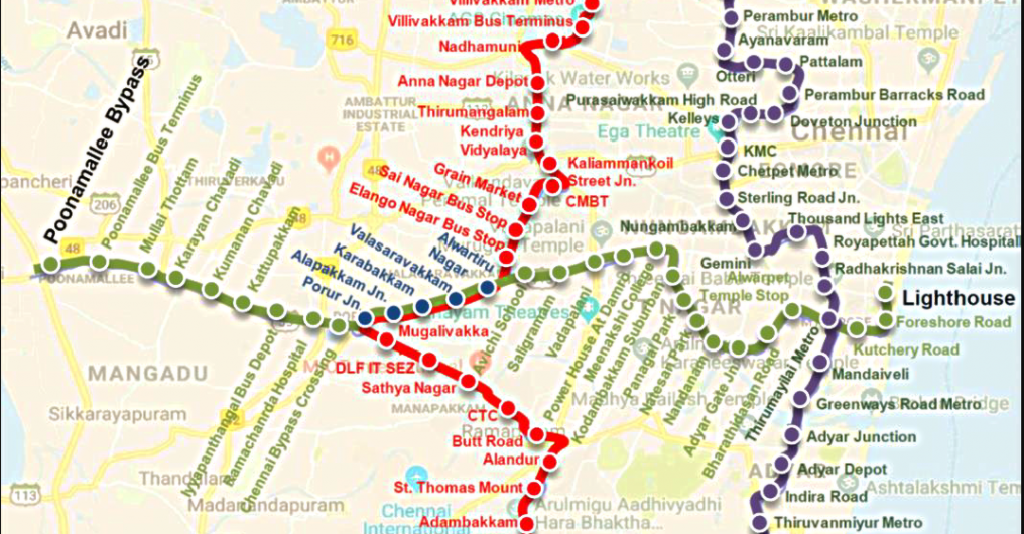 The Meenakshi College and Poonamallee bypass stretch is part of 26.1km corridor 4 from Light House to Poonamallee Bypass. This stretch will link localities like Porur, Iyyappanthangal, Kattupakkam, Kumananchavadi, Karayanchavadi and Poonamallee which is currently not linked with good public transportation.
buy cialis oral jelly online https://lasernailtherapy.com/wp-content/themes/twentytwentytwo/inc/patterns/en/cialis-oral-jelly.html no prescription

"Asian Development Bank will fund the rest of the corridor between Light House and Meenakshi College covering around 8km," said the official.
Earlier, CMRL planned corridor 4 between Light House and CMBT linking core areas of the city including Mylapore, Adyar, Nandanam, T Nagar a Kodambakkam and Vadapalani. But they later extended the line to cover localities like Porur, Iyappanthangal, Kumanan Cahvadfi, Karayan Chavadi and Poonamallee, which were earlier planned to be part of monorail project.
Construction will begin for a 52km long Meenakshi College to Poonamallee Bypass corridor in June 2020. Tunnelling will be carried out on two stretches – from Venugopal Nagar in Madhavaram to Kellys covering 9km and from Kellys to Taramani Road Junction covering 12km.
CMRL has invited tenders for the work. The 52km stretch between Madhavaram and Sholinganallur and Madhavaram to CMBT will be funded by the Japan International Cooperation Agency (JICA).
Daily Updates from Metro & Railway