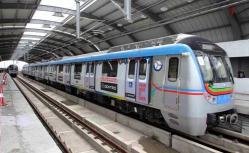 Hyderabad: The Hyderabad Metro Rail realignment may cost an additional Rs 700 crore. The major cost increase will result from realigning Route No. 2 that leads through the Old City. The realignment will increase the route by 3.5 km. However, the realignment on Route No. 1, near the legislative assembly, might lead to a reduction of 100 metres in length.
Although there might be some cost reductions here, the realignment may lead to the destruction of the Public Gardens, an old landmark of Hyderabad. The realignment on this route is to protect another landmark building – the state assembly.
The technical feasibility for the realignment has been presented to the state government by the concessionaire Larsen & Toubro many weeks ago, but the powers-that-be are yet to take a view on the report. Only after the government approves the technical feasibility report will L&T come up with the detailed cost estimates. However, at present rates, each kilometer of Metro Rail costs Rs 200 crore.
Public analysts say that the government might find it difficult to fork out the additional costs of realignment — which will be substantial. Because the major cost increase will be on Route No. 3, these analysts apprehend that the Old City section of the Metro Rail may be abandoned. Route No. 2 starts from Jubilee Bus Stand and ends at Falaknuma. The realignment is proposed near Charminar and the route under the realigned proposal will go over the Musi.
Meanwhile, chief minister K Chandrasekhar Rao's announcement that he wants to demolish Osmania General Hospital's main building has sparked off a public debate. Although Chandrasekhar Rao has cited poor structural condition of the hospital building, many public analysts have other apprehensions. Since two lines of the Metro rail — Route No. 1 (from Miyapur to Nagole) and Route No. 2 — intersect close to the Osmania Medical College (OMC), the averment is that the chief minister's intent has something to do with the Metro.
The OMC is just two kilometers from OGH, which sits on 26 acres of land part of which has been encroached upon. Public analysts perceive that the land freed from the demolition of OGH might be used to generate revenues that might help finance the additional cost of Metro Rail, post realignment.
This perception, however, might be without basis. Chief Secretary of Telangana Rajiv Sharma, when quizzed, said, "I can tell you categorically that there is no Metro Rail connection with Osmania General Hospital." L&T Metro Rail managing director VB Gadgil was even stronger in his response. "Where did you pick this up from? What may happen to OGH has nothing to do with Metro Rail," he asserted. "Earlier we had wanted land there. But we were given compensatory land in Raidurgam. So we don't want land there at all," he added.
Daily Updates from Metro & Railway