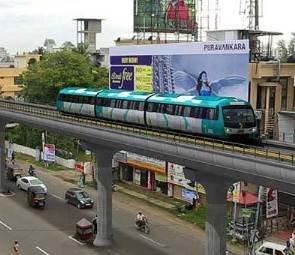 Kochi: The ongoing strike by quarry owners in Kerala has affected the pace of work on Kochi Metro and it may even miss its target date of June 2016 for start of commercial operations, Delhi Metro Rail Corporation (DMRC) said today.
Expressing concern over the strike launched on September 14, DMRC, which is implementing the Rs 5,181.79 crore project, said the existing stock of aggregates would last only for a couple of days and if the supplies did not resume, the work would come to a grinding halt.
A DMRC release said the strike has adversely affected the work of project.
"As of now, out of 6,000 workers involved in the project, 4,000 workers are idling due to non-availability of materials at site and balance 2,000 workers will also become idle on account of no work at site," it said.
In the past it had instructed contractors to keep sufficient stock of aggregates anticipating frequent strikes, but despite this, the prolonged quarry strike had affected the pace of work and stock available was getting exhausted.
DMRC fears that since the workers are idling at site, there is every possibility of them advancing their plan to go to their native places –north India — for the ensuing Pooja festival.
Once the labourers return to their native places, they may come back only after two months and thereby the precious time of the project will be lost, the DMRC said.
The construction of station building and other allied works, which are in a critical and advanced stage, require more labour strength, it said.
"In case quarry strike continues, it is apprehended that the project will miss the target date of June, 2016," the release said.
The quarry owners under the banner of All Kerala Crusher and Quarry Owners Association are on the indefinite strike demanding a revision in mining rules formulated recently.
Announcing the government's decision to exempt from environment clearance quarries functioning in one hectare land, Chief Minister Oommen Chandy had on September 16 said there was shortage of materials even for development projects.
Daily Updates from Metro & Railway