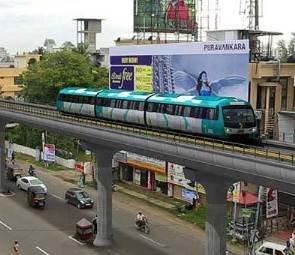 Kochi: The land-swap deal between the Kochi Metro Rail Limited (KMRL), the Greater Cochin Development Authority (GCDA) and the management of St Albert's College was finalised on Wednesday. The deal was finalised at a high-level meeting convened by Chief Minister Oommen Chandy in Thiruvananthapuram.
A total of 88 cents of land was surrendered by St Albert's to the KMRL from its 4.84-acre land at the Jawaharlal Nehru International Stadium at Kaloor, for which the college authorities owe lease rent arrears to the Government.
As per the decision, the GCDA will give 74 cents to St Albert's, along with 14 cents of 'purambokke' land. In exchange, the GCDA will be given 60 cents of government-owned land near the Kerala High Court.
"At the meeting, it was also  decided to refer the land swap proposal at the next Cabinet meeting for approval. Since the college authorities have to clear dues of some of the buildings on the leased land, the deal should be cleared by the Cabinet. Once the Cabinet okays the deal, the land will be handed over.
The District Collector has been asked to hand over the possession certificate to us, before that," said GCDA chairman N Venugopal, who attended the meeting. The College owes a total of Rs 1.75 crore as lease arrears to the State Government.
Meanwhile, a consensus has been reached between the authorities, and the arrears amount was finalised at Rs 45 lakh. A final decision in this regard will be taken at the next Cabinet meeting.
The meeting was also attended by Excise Minister K  Babu, Minister for Power Aryadan Mohammed, Revenue Minister Adoor Prakash, the Revenue Principal Secretary, District Collector M G Rajamanickam and the KMRL general manager, among others.
Daily Updates from Metro & Railway