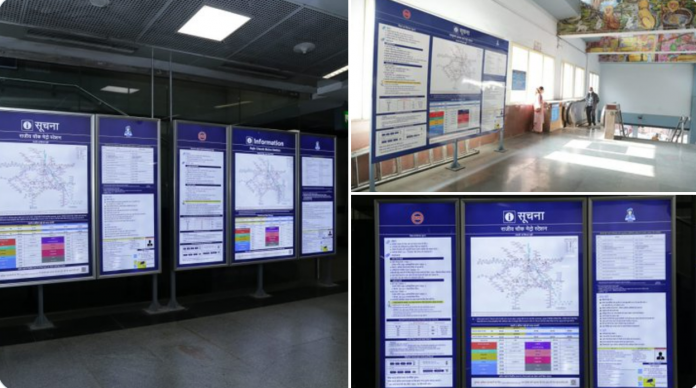 New Delhi, India (Metro Rail News): DMRC is installing a particular type of combined information signages on its Phase I and II metro stations and all the interchange stations of the entire metro network. It will be advantageous as it will consolidate all the essential information at one point and be visible to the passengers.
The signages will provide all the essential information like first and last train timings, ticketing, system map, do's and don'ts's, lost and found, facilities for Divyangjan etc.
Details of signages:
The signages will be LED-backlit and bilingual for easy and clear understanding and visibility of symbols and words.
Moreover, all the Delhi metro's elevated stations of Phase-I and II will have similar non-backlit signages.
The left frame of the signage will possess all the standard information like time-zone information, ticketing smartcards, benefits of smartcards, refunding and recharge of smartcards via digital means.
Station-specific information will be displayed on the signage's middle frame, such as first and last train timings, DMRC website, application information, etc.
The right side of the frame contains all other information like dos and don'ts', helpline numbers, lost and found office, CCTV surveillance, facilities for divyangjan etc.
The installation points are also near the ticket counters so that passengers can have easy access to all the facilities.
Around 400 signage has been installed at 158 stations of Phase-I and II stations and on all the interchange stations.
Daily Updates from Metro & Railway